Wayne County braces for Hurricane Florence
By Steve Herring
Published in News on September 10, 2018 5:50 AM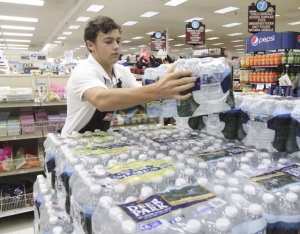 News-Argus/STEVE HERRING
Dylan Palk stacks cases of water at Carlie C's IGA on Wayne Memorial Drive Sunday afternoon. Water and other staples were big ticket items Sunday as shoppers prepare for Hurricane Florence that could affect the state by late Thursday.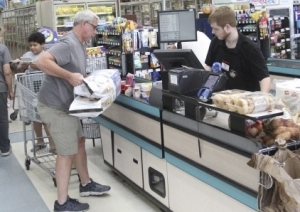 News-Argus/STEVE HERRING
Shoppers were stocking up on water and other necessities Sunday, including at Carlie C's IGA where grocery manager Scott Tyson said business had been brisk all day.
Stores were busy Sunday as shoppers stocked up on water and other staples as the state braces for the possible onslaught of Hurricane Florence by the end of the week.
"It has been busy all day," said Scott Tyson, grocery manager at Carlie C's IGA on Wayne Memorial Drive. "We have 10 pallets of water coming in about an hour. We will have water.
"Bread, water, milk, bread, eggs -- you know the necessities. Just stand here and watch and see how many go out (cases of water). It has been steady ever since I came in at 5 p.m."
Nearby, Dylan Palk was busy restocking a pallet of cases of water. The pallet had been a little more than twice that size earlier, Tyson said.
As of 5 p.m. Sunday, the Category 1 hurricane was packing winds of 85 mph and was located about 508 miles northeast of the Leeward Islands moving west at 7 mph.
Tropical force winds -- sustained winds between 39 and 73 mph -- could reach the North Carolina coast by 8 p.m. Wednesday and the central part of the state overnight and into Thursday, according to the National Weather Service in Raleigh.
The potential of 7 inches of rainfall is possible, although rainfall amounts could exceed current predictions, the NWS said.
Quite a bit of uncertainty remains regarding the exact track and speed of Hurricane Florence, but the risk of significant impacts of strong winds and prolonged extremely heavy rainfall on the central part of the state is increasing. The NWS said it remains too early to determine the exact timing, location and magnitude of the storm.
Two life-threatening affects from the hurricane include the storm surge at the coast and freshwater flooding from prolonged heavy rainfall inland.
North Carolina's experience with inland hurricane damage, such as river flooding and power outages during Hurricane Matthew in 2016, shows that hurricane damage can go beyond coastal impacts, Gov. Roy Cooper said.
The hurricane's cone of uncertainty -- the area of possible landfall sometime late Thursday into early Friday morning -- stretches from southeast Virginia to southeast South Carolina.
However, residents of central North Carolina are strongly encouraged to closely monitor the latest forecasts on Hurricane Florence and take time now to put together emergency kits and put a plan in place for their family and pets.
Wayne County Emergency Services staff met Friday to review plans and procedures.
"We are participating in conference calls with state and federal partners," said Mel Powers, director of the Wayne County Office of Emergency Services, Sunday afternoon.
"We have planning meetings scheduled this week with essential personnel and will continue to monitor the storm and act accordingly."
Luther Thompson, the state Department of Transportation's Wayne County maintenance supervisor, said equipment will be staged in different locations across the county beginning today. DOT is readying hurricane response equipment, such as bulldozers, motor graders and chain saws, to ensure equipment is in good working order. They are also topping off fuel sites.
Employees are contacting local contractors and equipment providers to make sure resources are available to assist if needed.
The office also will continue to monitor the weather, he said.
The state remains under a state of emergency, declared Friday by Cooper, as the latest forecast from National Hurricane Center shows Florence becoming a major hurricane by later today with wind speeds greater than 110 mph. Hurricanes, according to the Saffir-Simpson Hurricane Wind Scale, become major at Category 3, when wind speeds range from 111 to 129 mph.
Cooper also temporarily waived certain restrictions for trucks and heavy vehicles to help farmers harvest and move crops and livestock ahead of the storm and help utilities and other equipment be ready to respond if needed.
"With the potential impact of Tropical Storm Florence ... and the threat of severe economic loss of livestock, poultry and crops, I appreciate Gov. Cooper issuing a state of emergency for North Carolina," Agriculture Commissioner Steve Troxler said. "At my recommendation and as allowed by state law, the governor has directed the Department of Public Safety to temporarily suspend weighing vehicles used to transport livestock, poultry, feed and crops in the emergency area.
"The order also waives the maximum hours of service allowed for people transporting essential fuels, food, water, medicine, feed for livestock and poultry and those transporting livestock, poultry and crops ready for harvest."
Cooper on Sunday urged all North Carolina residents, businesses and visitors to prepare for the storm.
"Everyone in North Carolina needs to keep a close eye on Florence and take steps now to get ready for impacts later this week," Cooper said. "State emergency management, transportation, health experts and others are making sure North Carolina is prepared for the storm, and I urge the public to review your emergency plans and gather your supplies now."
Florence is already being felt along the North Carolina coast, with large sea swells resulting in life threatening rip currents and surf.
Throughout the weekend, state officials started preparing for potential impacts from a major hurricane.
North Carolina Emergency Management experts are also working to determine where to place resources ahead of the storm.
The State Emergency Operations Center plans to activate at 1 p.m. today, and North Carolina Emergency Management is coordinating with the counties, the Federal Emergency Management Agency and key partners in the State Emergency Response Team, which includes all state agencies plus utility representatives, private sector partners and volunteer agencies active during disasters.
"We are getting updates from the National Hurricane Center and FEMA, as well as our other partners, and drawing on everyone's experience to plan and prepare to respond to any need," said state Emergency Management Director Mike Sprayberry. "We are also staying in close contact with county and SERT partners to ensure all resource requests are met.
"We ask the public to stay tuned to your local forecast and listen to your local emergency officials. Make sure you have a plan for yourself and your family members, to include your pets."
N.C. Department of Health and Human Services experts are contacting all 100 county social service offices to make sure they have reviewed emergency preparedness plans, developed staffing schedules and pulled together supplies in the event shelters are needed.
DHHS is also working with the American Red Cross, N.C. Baptists on Mission and other groups to make sure sheltering and feeding needs can be met.
Public health experts will be contacting to at-risk North Carolinians with critical health challenges to help them prepare for the storm.
North Carolina's state parks, historic sites, museums and aquariums are monitoring Florence's potential track and performing necessary storm preparations, including securing the grounds, confirming generators are operable, fueling vehicles, and ensuring sufficient supplies are on hand to care for aquarium animals.
State park rangers and staff are on standby to lend support where needed for storm response.
The N.C. Department of Environmental Quality is mobilizing to support the State Emergency Operations Center with experts who can rapidly respond to any air and water quality concerns.
State public safety officials emphasized North Carolina's readiness for the storm.
"The State Emergency Response Team, which includes Emergency Management, the State Highway Patrol and the N.C. National Guard, is closely monitoring the storm and stands ready to deploy," Public Safety Secretary Erik A. Hooks said. "Our highly trained and experienced team has already been evaluating its resources and preparing to assist the public as needed."
For updates on tropical weather, visit www.weather.gov/srh/tropical.
Other Local News