Darksyde Entertainment opens
By Rochelle Moore
Published in News on June 23, 2017 7:13 AM
Full Size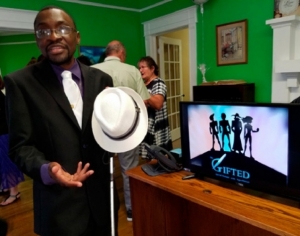 News-Argus/ROCHELLE MOORE
Mark Stevens, a Goldsboro city councilman, describes the creation of an animated super hero cartoon during the grand opening of his new business, Darksyde Entertainment, on Simmons Street.
Mark Stevens is bringing his West Coast talents to the East Coast with the opening of Darksyde Entertainment on Simmons Street.
Stevens, a Goldsboro city councilman, celebrated the reopening of the game development and animation company he helped create in California 15 years ago at an open house Thursday.
The celebration, along with a Wayne County Chamber of Commerce ribbon cutting, drew friends, family and a variety of community leaders Thursday.
The graphic design, animation and game development studio is a dream come true for Stevens because of his professional interest and desire to create jobs in a thriving industry.
"The connection to everything now is revitalizing and reuniting all artists I was connected with in California," Stevens said. "It's been about 10 years in the making.
"The one thing I know about the animation and game development and film industry is it will generate a lot of money. The game industry is so vast."
Stevens is the owner and administrator of Darksyde Entertainment and currently employs 10 people. The business is offering services to the region, in Wayne, Greene, Lenoir, Pitt and Wilson counties, with plans to expand in the future.
Services available include graphic design, website design, video recording and editing, motion graphics, 2-dimension and 3-dimension animation, video game development, photography services and photo restoration.
Darksyde is open Monday through Friday, from 10 a.m. to 7 p.m., and can be reached at 584-5070.
During the open house, Stevens showed off some of his work, including an animated short cartoon, "The Gifted," which is about disabled superheroes who use their disabilities as super powers, Stevens said.
Stevens, a Goldsboro native and Southern Wayne High School graduate, attended the Art Institute of California and started Darksyde Entertainment with two friends while in college.
"That's how we got our feet wet in the industry and that's how I got an internship at Nickelodeon," Stevens said.
Stevens' six-month internship offered the opportunity to work on an animated show, "Invader Zim." Darksyde Entertainment continued as a California business until the end of 2004.
Stevens, who became legally blind in 2009 due to health complications, moved back to Goldsboro in 2010. His election to the Goldsboro City Council in 2015 and service motivated him to move forward with his dream of opening the company. As a councilman, he has often expressed an interest in creating jobs in the technology field.
"If I was able to sit on the city council, then I'm able to come back," Stevens said. "I'm legally blind, but that's not stopping me. I'm pushing forward."
Two of Stevens' original business partners are serving as consultants or advisers for the Goldsboro-based business. The name of the business originated from a word Stevens and his friends noticed on the "Street Fighter" game. They saw a Japanese insignia that in the Mandarin language translated to dark side.
Darksyde Entertainment's website is at www.darksydeonline.com.
Other Local News