Hope revives as Mae's opens doors
By Steve Herring
Published in News on June 22, 2017 7:11 PM
Full Size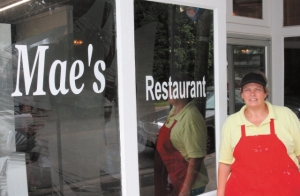 News-Argus/STEVE HERRING
Mae's Restaurant,in Seven Springs, reopened Monday for the first time since Hurricane Matthew left five feet of floodwater inside the building.
Full Size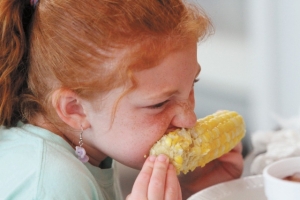 News-Argus/STEVE HERRING
Bailey Tutors ,8, gnaws on corn on the cob Thursday at Mae's Restaurant on Main Street in Seven Springs. The restaurant reopened this past Monday after having been closed since last October in the wake of Hurricane Matthew and its subsequent historic flooding.
Full Size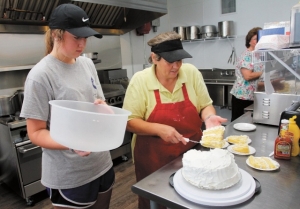 News-Argus/STEVE HERRING
Jackie Rouse, right, slices a piece of pineapple cake Thursday for a customer at her Mae's Restaurant on Main Street in Seven Springs. At left is Emily Sutton. The restaurant reopened Monday after being closed since last October because of Hurricane Matthew.
SEVEN SPRINGS -- Bailey Tutor, 8, chomped on an ear of freshly cooked corn on the cob.
At her side, her baby sister, Parker, 6, made short work of a large piece of homemade pineapple cake.
The sisters and their father, Kevin, were among the Thursday lunch crowd at Mae's Restaurant, which reopened Monday for the first time since Hurricane Matthew left five feet of floodwater inside the building.
Jackie Rouse, who operates the restaurant, moved from slicing cake in the kitchen to propping on a chair as she talked to long-time customers.
For Tutor and the other customers, the restaurant is serving up more than hospitality and homecooked country-style meals.
It is serving up a return to normalcy as well as hope and optimism in a community where both have been in short supply since Hurricane Matthew left the county's oldest town under several feet of water last October.
The devastation is still evident across town in the wrecked and abandoned houses and buildings -- some even on Main Street across from the restaurant.
But vehicles lined the street Thursday in front of the restaurant at 300 Main Street.
The lunch crowd, many who have been regulars for years, started to trickle in shortly after 11 a.m., growing to a steady stream by noon
"We'd come here right smart on the weekends, come for lunch especially when these little girls come along," Tutor said. "They are out for the summer so I thought I would bring them out for a treat. They didn't know Mrs. Jackie had opened back up.
"It's nice, real nice, especially when there is nowhere else close by. It's the same every time -- it is always good. You know in a small town you are all family. Jackie is family. We do what we can to support her. We are tickled for it to be back."
Tutor, like many others at the restaurant, said he hopes the reopening is a sign that more businesses will reopen.
"I was just sitting here thinking, I would like to see the bank and the post office," he said.
Carolyn Griffin, one of the town's matriarchs, and her daughters Karla, a town commissioner, and Kelly, owner of Griffin Plant Farm, were among the first to arrive Thursday for lunch.
"I feel like we've got a heartbeat back," Karla Griffin said.
"A meeting place. We didn't have anywhere we could go to get fresh vegetables," Carolyn Griffin said. "The restaurant down the street isn't coming back so I think we were lucky to get this one back."
"It is so good to see cars parked along the road," Kelly Griffin said.
In the same building and next door to the restaurant, renovation work is underway to turn it into a temporary home for town hall, Karla Griffin said.
"We are going to rent from them until we figure out what we are going to do," she said. "It's making the town feel alive again just to have people come through."
Mrs. Rouse was in the hospital when Hurricane Matthew struck, and at first she was not aware of the storm or the extent of the damage.
The Sunday morning after the storm, family, friends, firefighters and others came down and removed all of the restaurant's equipment before the town flooded.
"This is a close-knit neighborhood, and they will help you if you need," she said. "We just try to help each other.
Mrs. Rouse said she was heartbroken when she was finally able to see the destruction because her mother, the late Mae Ivey, first started the restaurant in 1984.
But she had seen it once before -- the restaurant had to been remodeled after being heavily damaged by Hurricane Floyd and its flooding in 1999.
"I hope we don't have to redo it again," she said. "Everything you see in here has been replaced -- the walls, the electrical, the lights. Everything. "There was 62 inches (of floodwater) in here (after Matthew)."
Mrs. Rouse does not own the building, but her landlords asked her if she wanted to reopen.
She did.
Work began in January and she reopened this past Monday to a packed restaurant -- a trend that continued through the week.
The restaurant will be open 6 a.m. to 2 p.m. Monday through Saturday.
The breakfast menu includes country ham, eggs, grits, bacon and sausage, French toast, omelets and pancakes.
Mrs. Rouse said she will try to have fried chicken every day for lunch along with barbecued beef, country style steak, pork tenderloin and chicken pastry and on Friday, fish.
Saturday is pretty much just short orders and barbecue sandwiches, she said.
"You order it. We fix it right then. It ain't pre-made," Mrs. Rouse said.
People have told her they are glad she is back.
"But they just don't know how glad I am to see them," Mrs. Rouse said. "It ain't only the food. They come down here to fellowship. There's people who just come down here to see everybody."
Some customers have been regulars since the restaurant first opened in 1984, she said.
"The trucks and cars on the streets around breakfast and lunchtime, it looks like a town again," she said. "Used to, it used to look deserted. People would just fly through and that would be it.
"But now it looks like a town again. You see action. You see movement. You see people. I think it has helped the community come back together some as far as that goes."
Mrs. Rouse said she arrives about 5:15 a.m. and that she cooks and does just about anything.
"I just felt like I was at home, like I was supposed to be here," she said. "It is what I am supposed to do. It is what I know how to do."
"I am just glad you are back cooking," one customer tells her.
"It is wonderful to be back," Mrs. Rouse said. "It's like being at home, and I tell my customers to come in and act like they are at home, too."
Other Local News