State cornhole championships held at Foster Center
By Ethan Smith
Published in News on June 25, 2017 1:45 AM
Full Size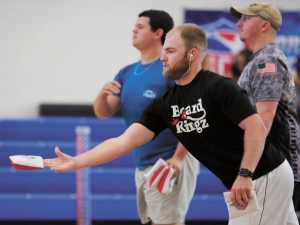 News-Argus/CASEY MOZINGO
Tyler Poythress competes in one of the opening rounds of the American Cornhole Association's North Carolina State Championship.
Full Size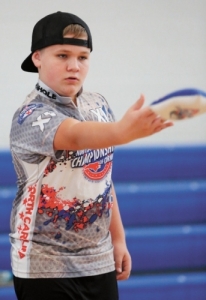 News-Argus/CASEY MOZINGO
Bobby Morris Jr., 13, concentrates as he tosses a bag while competing against 68-year-old Mike Arrington Sr. Saturday.
Full Size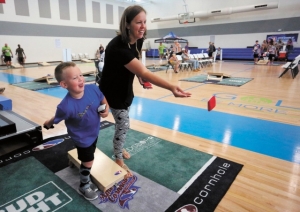 News-Argus/CASEY MOZINGO
Holden Fuller, 5, plays miniature cornhole with his mother, Leslie, at the W.A. Foster Center Saturday while waiting for his father, Blake, to compete in the American Cornhole Association's North Carolina State Championship.
Tyler Poythress first started playing cornhole in his high school gym class.
"My baseball coach didn't want us playing basketball during that gym time because the risk of injury was too high, so we started playing cornhole," Poythress said.
That was five years ago.
Four years ago, he started playing competitively.
That journey has taken him from his high school gymnasium to the rooftops of casinos in Las Vegas.
But on Saturday, his journey led him back to his roots into the W.A. Foster gymnasium at 1012 S. John St. for the American Cornhole Associations North Carolina State Championships.
Poythress, 21, of Wilson, is ranked as the number one ACO player in the United States.
In total, about 45 people competed Saturday for singles, doubles, junior, senior and women's category titles.
The tournament kicked off Friday, running from 4 p.m. to 11:30 p.m. That portion included competitions for juniors, seniors and women's state titles, with a special addition -- The Rosemann Cup.
The Rosemann Cup is named after Betsy Rosemann, Goldsboro's former travel and tourism director who died unexpectedly at her home in May 2016 at 55 years old.
She is credited with bringing the ACO state championships to Goldsboro three years ago.
Saturday's competitions began at 9 a.m., and ran until 10 p.m.
Players of all ages were competing Saturday, with cornhole bags whizzing left, right and center across the gym.
Eight cornhole "courts" -- two boards facing each other -- flanked either side of the gym, while one court was positioned in the center of the gym.
A miniature cornhole board court was set up off to the side of the gym so children could play while they watched their parents compete.
Cash prizes were awarded in most of the state title competitions.
Bobby Morris Jr., 13, said he's been playing the game for about four years.
"My grandpa bought boards and we started playing in the backyard," Morris said.
He said he began competing shortly thereafter.
On Saturday, he was competing against players of all ages, including 68-year-old Mike Arrignton Sr., who also competed in the seniors competition.
Brian Lynn is Poythress' doubles category partner, and said he's been playing the game for six years.
Lynn said his daughter was working at a restaurant that decided to have a cornhole event, and he first played to support that competition.
He got hooked, and kept playing.
Lynn said he and Poythress are good friends and partners, and he doesn't enjoy playing against him, opting rather to play alongside him.
Poythress said he has developed a strategy since he began playing.
He said some players are better at "air mail" shots -- bags thrown in a higher arc that drop straight onto the board.
If his opponent is better at that shot, he said, he will try and throw "blocker bags" onto the board. "Blocker bags" are sliding shots that build up around the hole on the cornhole board to try and block anything from going in.
But, if his opponent is better at sliding, "blocker" shots, he will throw "air mail" shots in an attempt to go above them and get his bag in the hole.
And while Poythress is ranked as the best in the nation, he said what keeps him playing is the friendships he's built along the way.
"It's been meeting all of these people that's kept me in it," Poythress said. "I've made a lot of new friends."
Other Local News