Working to make a difference
By Rochelle Moore
Published in News on June 25, 2017 1:45 AM
Full Size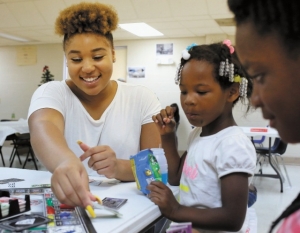 News-Argus/CASEY MOZINGO
Erica Hobbs, 17, plays games with children at the Lincoln Apartments community center Thursday. Hobbs is participating in a summer youth job program.
Full Size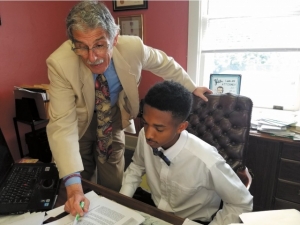 News-Argus/ROCHELLE MOORE
Goldsboro Attorney Robert Fuller Jr. reviews property deeds with Ja'Cory Brunson in his William Street office.
Full Size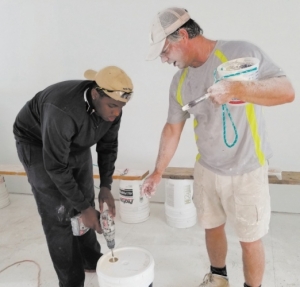 News-Argus/ROCHELLE MOORE
Ethan Sellers, Habitat for Humanity site supervisor, shows Kyree Williams how to correctly mix paint at one of Habitat's homes being built on Horseshoe Drive.
Erica Hobbs walked into the Lincoln Apartments public housing community with a vision of how to make her summer job count.
Hired as an assistant to the property manager, Hobbs came up with the idea to start a new summer camp program for children.
Hobbs, a 17-year-old rising Eastern Wayne High senior, is one of 60 teens hired to work in the city's first-of-its-kind summer youth job program.
"We just got lucky when she showed up," said Jacqueline Kannan, public relations officer with the Housing Authority of the City of Goldsboro.
"She's focusing on the children and on helping us provide better opportunities for them for the summertime. We didn't know she was going to do a summer camp."
Hobbs was brought in to help with daily office work duties but also encouraged to create new opportunities for the public housing community.
She came up with a name for the summer camp -- Let's Make this Summer Count -- created flyers and designated each day for a specific activity. The children are playing games, working on arts and crafts, watching popular movies and spending one day a week outside playing games. Hobbs also developed a reading program.
"I feel like kids, they need to stay in something positive," Hobbs said. "I love working with kids, and it's good to see them come here and enjoy themselves.
"It feels good to give back."
Her program is so popular that three other public housing communities -- Fairview Apartments, Elmwood Terrace and West Haven Apartments -- are now offering summer camp programs for children, Kannan said.
The Summer Youth Employment Initiative was created following a Goldsboro City Council decision to provide youth positive experiences during the summer months.
The program, developed by the Goldsboro Community Relations Department, the Housing Authority and Wayne Community College, offers teens, between ages of 14 and 18, jobs at either $7.25 or $8.25 per hour. The teens work close to 20 hours per week for six weeks, with days designated for job-related education at WCC and trips that expose teens to local and state government.
The city of Goldsboro is paying for 47 of the jobs and the Housing Authority is paying for 13 jobs. The program is providing the majority of teens with their first job experience, said Shycole Simpson-Carter, Goldsboro community relations director.
"I'm really going to hate it when this six weeks is over because I really love working here," Hobbs said. "I'm getting exposure to a lot of things. Exposure is everything."
'NOT JUST A SUMMER JOB'
Kyree Williams would likely be working at a fast-food restaurant if he wasn't picked for one of the summer jobs.
"When I got it, I was excited," said Williams, a rising Eastern Wayne High student. "I was excited because this is my first job. Not only do I get to have a job and be employed, but I get to learn skills that will help me in life."
Williams was hired as a construction assistant and is working at a local Habitat for Humanity house, under construction on Horseshoe Drive.
He's been painting, helping build a deck and learning a variety of skills under a Habitat site supervisor. He was matched for the job based on his interests and skills, which include helping with set construction and theater lighting at school.
"I will never forget how to do these things because these things will stay with you forever," Williams said.
Williams plans to attend the University of North Carolina School of the Arts and focus on stage management and technical direction.
"A lot of the things I'm learning are going to help me with my end goal in life," Williams said. "That's why it's not just a job for me because the things that I'm learning are key and influential to what I want to do in life."
Williams, like other teens in the summer program, were matched with jobs that fit their skill set and interests. The opportunity is much larger, since each Friday is designated for either community college job-related education or a trip to meet state legislators or local elected leaders.
Ethan Sellers, Habitat's site supervisor, said Williams has brought enthusiasm, energy and an interest to the job.
"We, as a program, really enjoy having someone this eager to learn," Sellers said. "He's doing a great job, and this is a great introduction into life in the workforce."
Habitat is one of a collection of program-approved work sites, which include government agencies, businesses and nonprofits. The worksites provide a supervisor and the program provides workers that are paid by the city of Goldsboro or the Housing Authority
Teens have been hired for a variety of jobs, including camp counselors, office assistants, public works laborers and teacher assistants.
PHENOMENAL WORK ETHIC
Yvette Mason, assistant superintendent of human resources with Wayne County Public Schools, said her summer intern has been a welcome addition to the department during one of the busiest times of the year.
"Her four hours fly by for the team," Mason said. "She is helping us out tremendously."
Kristi Fung, an 18-year-old recent Wayne School of Engineering graduate, is helping with new staff and teacher employee paperwork, planning new employee orientation and other tasks as the department prepares for the start of another school year, by August.
"She's a vested part of the team," Mason said. "She's involved in the business of Wayne County.
"Her work ethic and willingness to roll up her sleeves has just been phenomenal."
EXPOSURE TO CAREER POSSIBILITIES
Attorney Robert Fuller Jr. has also enjoyed having a summer intern at his law office on North William Street. The summer job program is a benefit to the teens as well as the community, he said.
"I think it's a wonderful program," Fuller said. "It helps the kids, and it helps us."
The Fuller at Law office was provided with a 15-year-old summer intern, Ja'Cory Brunson, who attends Wayne Country Day School.
Brunson, who didn't know where he would be employed, asked for a job that involved computers in an office setting. The experience has opened his eyes to a profession he knew little about.
"At first, I didn't know anything about law because I'm planning to go into the medical field, but once I started working here, it clicked in my mind," Brunson said.
Brunson works in the office answering phones, making appointments, collecting mail, visiting the courthouse and handling estate records. Fuller, a bankruptcy and social security attorney, also hopes to take Brunson to court.
"I feel like it's providing me with knowledge of how the field works," Brunson said.
Before he learned about the summer youth job program, he planned to attend a summer track camp at N.C. State University.
"This is giving me a very special opportunity because I would have never imagined working in an attorney's office," Brunson said. "If I would have gone to track camp, I would have missed this opportunity. Sports aren't going to get me the education I need to succeed."
When he gets paid, Brunson plans to save his earnings.
"I plan on saving it," he said. "I don't plan on spending it at all."
NEXT YEAR PLANS
The pilot-jobs program may expand in future years, depending on its success and funding availability. Several employed teens said they plan to apply next year.
The program is already reaping benefits, with many work site leaders sharing positive experiences.
"As we all know, the first job for a youth often means so much more than receiving paycheck to buy a personal item," Simpson-Carter said.
"To a youth, a job is a light that shows them they can be so much more if they just keep putting one foot forward, another option from a life on the streets or from less constructive activities for some, or the opportunity to visualize their potential career path."
Other Local News