Vigil in wake of shootings
By Rochelle Moore
Published in News on June 8, 2017 6:57 AM
Full Size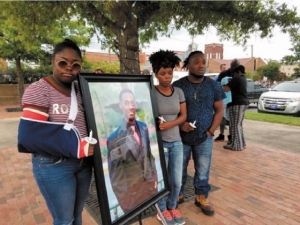 News-Argus/ROCHELLE MOORE
Racquel Howard, Jeavon James and Trevlon Thacker stand next to a photo of their loved one, Donald Girtley Jr., a victim of a deadly May shooting, at the community prayer service in the Cornerstone Commons on Center Street. Howard and James are Girtley's sisters and Thacker is a friend of the family.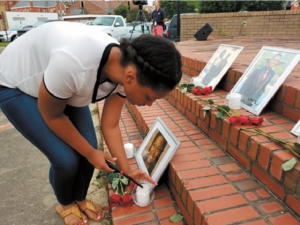 News-Argus/ROCHELLE MOORE
Kheyonna Martin, secretary of Impact Teens Goldsboro, lights candles next to a photo of A\'Tiya Maddox on the steps of the Cornerstone Commons stage.
Full Size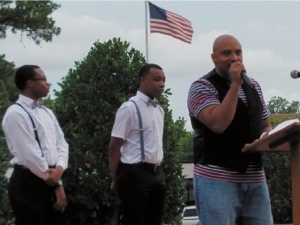 News-Argus/ROCHELLE MOORE
Four photos of young adults killed from gunfire were set along the steps of Cornerstone Commons downtown, where people gathered to pray Wednesday.
Mothers, fathers, teens, children and community leaders -- all from different walks of life -- filled the downtown commons, in the heart of the city, to pray that the violence in Goldsboro would end.
Family members of some of the victims were in attendance, including the sisters and mother of Donald Girtley Jr., who surrounded a large picture of the 18-year-old Goldsboro teenager who was killed in Kinston in May.
Teenagers with Impact Teens Goldsboro took the initiative to host the prayer night, with at least 100 people in attendance. Some said they wanted a greater turnout.
"This is well-needed in our city," said Ja'Shawn O. Faire, co-founder of Impact Teens.
The Impact City-Wide Prayer Night started with a poem of consolation, comfort and hope, read by Khalil Cobb, also a co-founder of youth-led organization. Kyree Williams sang "It's So Hard to Say Goodbye to Yesterday," and the prayer was led by the Rev. Edwin Von Newsome, pastor of Impact Church Goldsboro.
The evening planned to include lit candles, which continued to blow out from a slight breeze in the air. Some lifted their candles as a memorial to the victims.
Von Newsome prayed for peace in the city, guidance for law enforcement, city officials and others in decision-making roles and for the community as a whole.
"I pray even today or this evening for the comfort of the loved ones who have lost loved ones," Von Newsome said.
"I pray that you comfort us as a community, help us to build community, help us to build respect one for another, and more than anything, Father, just give us strength to help us persevere in those things that are positive."
He also remembered the families who are now living without loved ones.
"I take a moment to pray not only for the families but for the entire city, but more specifically even for these wonderful families who have experienced tragedy, who have experienced things that no one should have to experience," Von Newsome said
"We expect great things in our city and start this evening by showing love and unity and peace among ourselves."
Following the prayer, Essence Bryant, also with Impact Teens, read the names of teens and young adults who died from gunfire. Five killings have taken place in Goldsboro this year, and one deadly shooting claimed the life of a Goldsboro teen in Kinston in May. None of the cases have been solved.
Impact Teens also released white balloons to remember the victims.
Mayor Chuck Allen also said a few words, asking the community for help in turning the tide away from violence, gang activity and crime.
"We've got to give some hope to these young men who are going out here and shooting people," Allen said. "If we're going to fix this, it's going to take everybody.
"I don't even care about arresting the kids right now. I care about stopping the shootings. Let's do whatever we can to get to these young kids."
Impact Teens plans to have other events in an effort to bring change in the city, Cobb said.
"This is the first step to making a huge change in our city, preventing gun violence from happening again," Cobb said.
Other Local News