Washing away the grief
By Ethan Smith
Published in News on June 1, 2017 5:49 PM
Full Size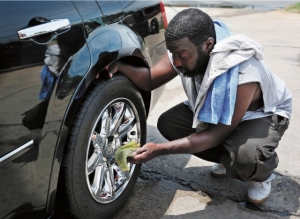 News-Argus/CASEY MOZINGO
Darrick Smith shines the rims of a car at Da Wash on N. William Street Thursday during a fundraiser the owner, Ernest Boney, and her organized to help pay the funeral expenses of several local teens that have been murdered.
Full Size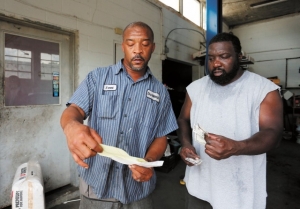 News-Argus/CASEY MOZINGO
Ernest Boney and Darrick Smith add up the money that they have received for the funeral expenses of families affected by recent murders of teenagers Thursday. Boney is hosting the car wash event at his business of 15 years, Da Wash, on N. William Street through the weekend. All money for car washes will be donated and volunteer washers are welcome.
Darrick Smith did not know Desconte Makell Bryant.
Nor did Smith's friend, Ernest Boney.
They did not know Bryant's family, either.
But when the two men heard the 18-year-old was shot and killed at 410 Hollowell St. Sunday morning, they knew something had to be done.
Boney is the owner of Da Wash, a car wash at 512 N. William St.. Both he and Smith are washing cars throughout this weekend to raise money to help Bryant's family with funeral expenses.
The washing began Thursday and will continue Friday and Saturday, while the business is open.
People can donate what they want to help the cause, and if people only want to donate but not have their car washed, they can do that, also.
Smith went to Boney after hearing about Bryant's killing.
"It hurts. That's one reason why," Smith said. "To see someone's life get taken -- someone who had plans, who had a goal, a young man who had a goal and wanted to go somewhere in life, wanted to be something in life -- and his life gets taken for reasons he don't even know why, and that hurt."
After some discussion, they came up with the plan to wash cars to help raise money for Bryant's funeral expenses, as his family cannot afford a proper burial alone.
As of early Thursday afternoon, on the first day of the fundraiser, they had raised almost $100 toward their $2,500 goal.
All proceeds will go to help with the funeral expenses. Bryant's funeral is being handled through Serenity Memorial Funeral Home & Cremations at 401 N. William St.
Both Boney and Smith grew up in Goldsboro, and have known each other since kindergarten.
"Our community is suffering," Boney said.
If people cannot donate, but want to help, they are invited to help Boney and Smith wash cars at the business for the duration of the fundraiser.
A GoFundMe page has also been created to help Bryant's family with funeral expenses.
So far, $844 has been raised toward a goal of $8,000.
People can donate to the GoFundMe campaign by visiting www.gofundme.com/3umeseo.
"People need to realize that ain't nobody exempt from nothing. It could happen to you," Smith said. "So don't wait until it happens to you in order to try to make a change."
No arrests have been made in the slaying of Bryant.
He is one of two Goldsboro High School students to die after being shot in less than a week.
Donald Girtley Jr., 18, of 918 Lincoln Drive, was shot and killed in Kinston Wednesday, alongside 23-year-old Demone Nesbitt, of 13-G Mitchell Wooten Apartments, Kinston.
Kinston Police arrested a 15-year-old male Thursday and charged him with two counts of murder for the double homicide.
The investigation into that case is ongoing.
Bryant was very active in Goldsboro High School's JROTC program, and was a rising senior.
Girtley was a returning senior, who would've returned in the fall to complete his schooling.
Anyone with information about the killing of Bryant, or any other crime in Wayne County is asked to call or text Crime Stoppers at 919-735-2255, or submit information at tipsubmit.com.
Callers can remain anonymous and information leading to a felony arrest will be eligible for a cash reward.
Other Local News