Journey of a real artist
By Becky Barclay
Published in News on May 31, 2017 7:10 AM
Full Size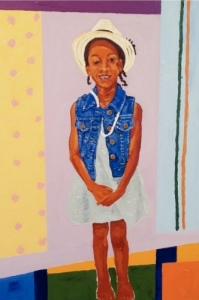 News-Argus/BECKY BARCLAY
Cedric Baker did this painting of a little girl who came into his studio in Washington, D.C., one day.
Full Size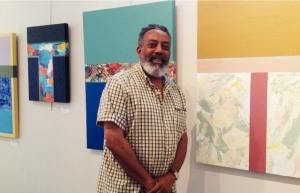 News-Argus/BECKY BARCLAY
Mount Olive native Cedric Baker is shown with some of the abstract paintings he has in an exhibit at the Arts Council of Wayne County. He now has a studio in Washington, D.C.
From his beginnings in Mount Olive to his military time in California to working at the National Gallery of Art in Washington, D.C., Cedric Baker has been on a journey that has shaped his life as an artist.
People can see part of that journey at his exhibit, "A Painter's Journey," at the Arts Council of Wayne County, where he'll have about 15 pieces of abstracts and figures on display through June 16.
The figure paintings in the exhibit are based on real people. There is one of a couple with a big umbrella. Both are good friends of Baker's from Mount Olive. There also a girl with pigtails -- his sister's granddaughter.
Baker, 68, left Mount Olive when he was two to move to New York with his family.
His aunts and uncles were all creative and encouraged him with paint-by-number sets and various coloring books when he was a young boy.
"I had the dream of becoming an artist then, but I really didn't know what that entailed," Baker said.
He eventually joined the Air Force and was stationed in California for four years, part of the Vietnam era military.
"I'd go downtown in Sacramento, Calif., and was friendly with this guy who would be outside painting while I was in the service," Baker said. "He gave me some watercolors, and was sort of my mentor."
After getting out of the Air Force, Baker used his GI Bill to study painting, drawing and print making at Sacramento City College for three years.
It had always been a dream of Baker's to study at the Pratt Institute in New York. So he came back home to the east coast and took classes there about two years.
He returned to Sacramento with his girlfriend, but came back to the Pratt Institute for another year.
Part of Baker's artistic journey took place while he was driving a taxi while studying at Pratt Institute.
"It gave me a chance to see the city," he said. "It made it easy to assess the downtown art scene. I met people in the clubs and became friends with the artists. I found ways to submit my work for shows. I did quite a few of those and some shows at clubs. It was like an underground network."
Baker always had his camera with him to document people and places, a lot of which he later turned into paintings.
He showed some of those paintings at the Arts Council 25 years ago, where he won Best Artist of Wayne County in the juried art show.
Another piece of the journey was the 10 years that Baker worked at the National Gallery of Art in Washington, D.C.
"Some of the world famous artists would come into the museum, and they had art talks all the time," he said. 'It got to meet them, all the heroes of the 20th century contemporary scene."
Baker now lives in northern Virginia, just outside of Washington, D.C., where he maintains his art studio as a full-time artist.
The biggest challenge along the journey was money.
"You're always frustrated having to take a job knowing you'd rather be creating," Baker said. "I met a lot of famous and master artists who told me if I was in it for the money, I was in it for the wrong reason."
Baker hopes to one day soon do a series of paintings from photos he took of his friends who went to Vietnam. He said he's working with a museum in Washington, D.C., to show some of his photos. And he also hopes to one day put them in a book.
"Between the photos and stories I've got, it's part of history," Baker said.
Baker will have a meet the artist event May 27 at 3 p.m. at the Arts Council.