Marketing a taste of home
By Melinda Harrell
Published in News on May 31, 2017 7:10 AM
Full Size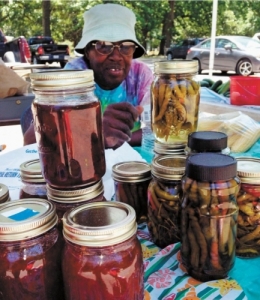 News-Argus/MELINDA HARRELL
The Rev. Sara Morgan talks about her various preserves and canned peppers at the Goldsboro Farmers Market at Herman Park Friday. She said she has been selling produce at the city's farmers markets for more than 20 years.
Full Size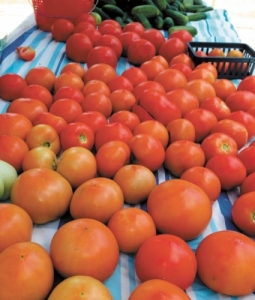 News-Argus/MELINDA HARRELL
Tomatoes grown in Wayne County sit on the Rev. Sara Morgan's table at the Goldsboro Farmers Market at Herman Park Friday. She said she picked the tomatoes from the vine the same morning.
For the Rev. Sara Morgan, selling produce is a family heritage.
Her father, Hub Holloway, sold what he grew at the farmers market in the city when it was on Center Street along with Morgan's uncle who was known as the "collard man."
Now Morgan, a 22-year veteran of the market, sells her produce and preserves at the Goldsboro Farmers Market at Herman Park.
"I am the pearl of the farmers market," she said.
"I show them how to do it, thanks to my daddy."
As Morgan sits behind her mountain of healthy, green collards, ripe, red tomatoes and bountiful cucumbers, gospel music fills her tent.
She opens her arms to show the expansive amount of produce she has for sale.
"All of it came from the farm. In fact, I picked these tomatoes this morning," she said with a smile.
Bruce Coley's Farm has also built a reputation for produce, too.
Raymond Parks, who helps on the nearly 800-acre farm in Saulston, said produce from Bruce Coley's Farm is laid out under the tents at the farmers market every year.
"We love to grow things," he said.
"He (Coley) has got a green thumb. Today we have cabbage, scallions and green beans."
Though Morgan and Parks are veterans of the farmers market, there are some who are relatively new to the scene.
Asia Whitney began selling her homemade beauty products, jewelry and candles at the market this year.
"I had to make stuff natural for me and better for my skin," she said.
Whitney realized there is a market for her products when she began making her scrubs and soaps for herself, and with that in mind, she began her business venture.
Matthew Cox, who is selling potted peppers and tomatoes, has had a spot at the market for around three years. This season, however, is proving a banner year for him.
"I only have peppers left right now," he said.
"They bought all my tomatoes."
Of course, he is continuously growing more plants at his home on Carolina Street, all of which are organic.
"I start everything from the seed, I'll have corn, butter beans and green beans soon," he said.
It is still early in the season for the Goldsboro Farmers Market, so there is plenty of time left to visit and shop. The market opened May 3 and will be open every Wednesday and Friday from 8 a.m. to 6 p.m. until Nov. 3.
Other Local News