Old time mountain music: Members of Flat Mountain Dulcimers want to pass down instrument's heritage
By Becky Barclay
Published in News on May 28, 2017 12:25 AM
Full Size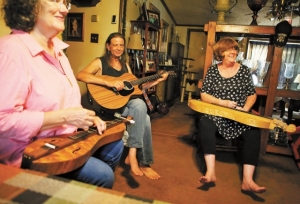 News-Argus/CASEY MOZINGO
Members of the Flat Mountain Dulcimers have a rehearsal. From left are Nancy Galambush and David and Margit Roberson.
Before there were radios, records or things of this nature, when people in the Appalachian Mountains wanted some musical entertainment, they'd sit down, pull out some basic tools and build an instrument. That's how the mountain dulcimer came to be.
But you don't have to go to the mountains to hear a dulcimer. Three local people formed their own group several years ago and play at various events. They are the Flat Mountain Dulcimers -- Nancy Galambush and David and Margit Roberson.
Nancy's husband, the late J.C. Bradshaw, got her into playing the dulcimer when he began building them, eventually making 74 total.
"I was aware of the dulcimers, and I liked them," Nancy, 65, said. "As a kid, we went to the mountains and I had seen them there."
She never thought about actually playing one. But her husband didn't want to build something if no one was going to play it. So Nancy learned how to play the dulcimer. She was already playing the cello so she thought the dulcimer couldn't be too much different than that.
Margit, 64, and Nancy's husband were both special education teachers at the same school. When he told her he was building a dulcimer for his wife, Margit decided to sit in on a session, never intending to take it up herself.
"I told J.C. that I had bought my husband a dulcimer years before from the Sears and Roebuck catalog and that he would like to learn how to play it," Margit said.
She doesn't read music so thought she could never play any instrument. But Nancy and J.C. talked her into it and with a lot of practice, she finally mastered the dulcimer.
"I love it," Margit said. "It's something Dave and I could do together. He's always been interested in music."
David Roberson plays both the guitar and dulcimer.
"When Margit started playing the dulcimer, I said, 'Hot dog, I've got somebody to play with now,'" he said. "We play together at home as much as we can, mostly during the evenings. We just enjoy playing. I hear a tune and we'll figure it out together. Sometimes it comes out sounding pretty good, other times not so good."
The trio has been performing since 2005. David came up with the name Flat Mountain Dulcimers.
"We bounced names around," he said. "I finally said we're playing mountain music in the flatlands, so why not be the Flat Mountain Dulcimers."
The group has performed at several venues, including county fairs, First Fridays at the Arts Council of Wayne County, Sunday in the Park, churches, various festivals, the Front Porch Festival in Oriental and R.A. Fountain General Store, a popular gathering spot for musicians.
A few years ago, the Flat Mountain Dulcimers band was asked to play for the Smithsonian's Traveling Roots music exhibit at the Arts Council.
Nancy and Margit also teach dulcimer workshops at places such as Winston-Salem, Shelby, Chapel Hill and even Georgia.
"We played at the strawberry festival in Faison a few years ago when Roby Huffman was still alive playing with The Bluegrass Cutups," David said. "Another bluegrass band was also playing. When it came our turn, we played a few tunes and one was 'Foggy Mountain Breakdown.' When we started playing that, all the bluegrass musicians came up and were standing behind us on the stage looking over our shoulders. When we got done, they asked us how the heck did we get that out of just three strings. They were pretty impressed."
A typical dulcimer usually has three strings. And it sits on the lap.
"It's got a sweet sound, and I love the old songs like 'Old Joe Clark' and 'Groundhog,'" Margit said. "It's just fun to do.
"We play mostly old time music, but we also incorporate Celtic tunes, gospel, some bluegrass and a little rock and roll with 'Rock Around the Clock.'"
David said anyone who has gone to the mountains has probably heard dulcimers -- Galax style, which is from Galax, Va.
"It's a lot of strumming," he said. "We tune our dulcimers where we can do chords and we can make a more melodic sound."
Nancy loves the sound of the dulcimer, along with its history.
"It's an American folk instrument," she said. "It's related to some early European instruments that were found in Germany, France, Sweden and places like that."
When the Flat Mountain Dulcimers do a show, Nancy also gives a little history of the instrument.
"The history of the dulcimer was not playing in groups," she said. "But someone would have one in their home and when they wanted some music, they would pull it out and usually sing with it.
"That's one of the things I like about it is the heritage and that it's from North Carolina and Virginia. It's our heritage. It comes from the mountains."
Nancy's favorite song on the dulcimer is "Rosin the Bow."
"We play it as a waltz, but it's actually a drinking song, she said. "I think it's pretty. When J.C. was building the instruments, when he'd bring a new one into the house, his hearing was very poor, so I had to check it out and see where it needed it work. That would always be the first thing I'd play."
Nancy said one thing that's really surprised her about playing the dulcimer has been finding out that other people enjoy hearing her play.
"I was at a week long workshop in Cullowhee one year," she said. "A woman came up to me and said, 'Oh, you're Nancy Galambush' and she started going on and on about seeing us play on YouTube. I've had other people say they learned a song by watching us play on YouTube. That happened in Georgia, too."
David recalls the same thing happening to the group at a big jam session one time.
"These two guys came up and just started staring at us," he said. "They kept grinning, staring and pointing at us. Finally when we got done playing, they said, 'You're Flat Mountain' and called us by name. I thought, 'Oh my gosh, we've got a fan club.' They had seen us on YouTube and were excited."
Flat Mountain Dulcimers has recorded two CDs.
"We have a lot of fun playing the dulcimer," Margit said.
Other Local News