Chasing the dragon
By Joey Pitchford
Published in News on May 17, 2017 9:57 AM
Full Size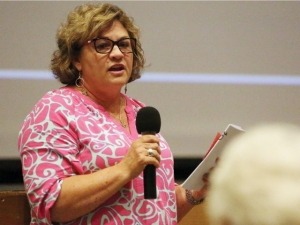 News-Argus/CASEY MOZINGO
Judy Howell, board member of the Mental Health Association of Wayne County and vocational rehabilitation counselor, introduces a video called "Chasing the Dragon" at Wayne Community College on Tuesday night.
Dozens gathered at the Wayne Community College auditorium Tuesday evening to view the film "Chasing the Dragon: The Life of an Opiate Addict" and to take part in a nearly two-hour panel discussion.
The documentary focused on the lives of several opiate addicts, detailing their struggles and those of their families. For many, the stories did not end well, as they were left dead and their stories recounted by family members.
Others had happier endings, as many people who were addicted managed to stay clean for years past the filming.
The panel came together around 7 p.m. It consisted of professionals from local government and law enforcement as well as mental health professionals from around eastern North Carolina. Tracy Blackmon and Cindy Lewis, therapists with Waynesboro Family Clinic, sat with Wayne County Sheriff's Office Lt. Mike Cox, Eastpointe representative Suzanne Lewis, Dr. Hany Kaoud with Port Health Services and Octavia Muhammad with the Wayne County Department of Social Services.
The first question from the audience dealt with fears that sending a loved one to group addiction therapy could end up exposing them to new sources of drugs. Blackmon answered that group therapy is one of the "most successful interventions we can put in place," and that it is important to remember that drug addiction is not a choice.
Cindy Lewis said she understood the concern, but cautioned against keeping a person who is addicted in the same setting.
"People, places and things are the biggest triggers there are," she said. "Group therapy can give them resources to reach out to. Will they relapse? Probably, yes, that is just the cycle of addiction. But every time they are learning a new strategy for dealing with it."
Cox, head of the drug unit at the Wayne County Sheriff's Office, shared some of the stories from his time in the service.
"I've been doing this 22 years," he said. "I've seen some bad stuff."
Cox said that heroin has exploded in Wayne County over the last five years. Where the drug unit could previously search 1,000 homes and get one heroin arrest, the drug now pops up every single day, he said.
Much of the drug isn't even heroin anymore, but rather fentanyl, a powerful synthetic compound responsible for thousands of overdose deaths.
"We've had two cases, the only two in North Carolina, where the heroin we sent to the SBI labs came back with no heroin in it," Cox said. "It was just straight fentanyl."
People in the audience also shared their experiences. Christy Benton lost her brother to opioid overdose around two years ago, and her sister just months after that. Having researched the issue herself, she came to the discussion to see what it could add to her understanding.
Benton said she is worried about her children being exposed to drugs in school. She was brought to tears while speaking, saying she didn't want her older daughter to end up like her brother.
Sharing her story was part of the healing process, she said, even if hearing other stories didn't offer much solace.
"It's good to see the other side of the story, what the addict went through, because now I have both sides of that," she said.
Benton hopes to create a parent support group to help share ideas about dealing with drugs in the home.
For those who want to do something, Cindy Lewis said that the best course of action is to educate and seek resources.
"I'm a huge advocate of education. Support is available in the community," she said. "Reach out to your local management entity or managed care organization, ask for help."
Then, she said, go out and tell your friends and peers what you have learned.