Heroes remembered
By Steve Herring
Published in News on May 26, 2014 1:51 PM
Full Size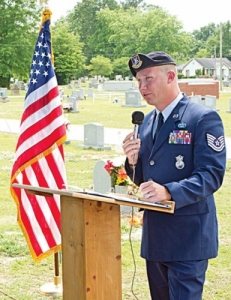 News-Argus/STEVE HERRING
Purple Heart recipient Air Force Tech Sgt. Ben Seekell told the audience at the Mount Olive Memorial Day service that the obser- vance may be just one day on the calendar, but that those being remembered are with them every day.
MOUNT OLIVE -- Air Force Tech. Sgt. Ben Seekell did more than just remember those who fought beside him overseas at Sunday's Mount Olive Memorial Day ceremony.
He shared stories of survival, of valor and of those who didn't make it home -- as well as some thoughts about honor and freedom.
Seekell told those gathered at the ceremony at Maplewood Cemetery that his memory of those who gave all to their country is not limited Memorial Day. They are with him every day.
"This one day that we set aside for Memorial Day isn't going to end today," said Seekell, a Purple Heart recipient. "It is going to go on. They are going to carry on in our hearts and they are going to remain a shining light of American resolve and a symbol of the freedom that really is the envy of the world.
"Those who have lost, and felt loss, and we as people who know they gave the sacrifice, we are not going to forget. We talk about Memorial Day. A lot of the conversations that I have had in my career are the cost of war and what that means to us. The question usually follows, in the case of my conversations, is it really worth it -- the cost that we have to endure to preserve our freedom?"
"Which leads us to why we are all gathered here today -- to commemorate those who didn't make it," Seekell said. "So how do you quantify that into one day of remembrance?"
Seekell said he had "kind of been stewing" over that all week.
"I started looking into it, doing a little research," he said. "What ceremony can we do that will suffice to commemorate that sacrifice? That is a hard question. Life is a powerful thing. Most of us wouldn't dream of giving it up, save perhaps for the lives of our children. But then we have these American heroes that I mentioned before who have done it for perfect strangers -- people they don't even know like me and everybody out here. Why do they do it? Why do they do it for people they don't even know?
Seekell said the only conclusion he could come to was that for these warriors, their mission is to preserve the nation they love -- and to fight for their fellow citizens' rights to live in those freedoms that the country provides.
"I tried to think about, but I couldn't think of anything more powerful than that," he said. "Now I will go back to a scripture from the Bible I am sure a lot of you know and have heard before, 'Greater love have no one than this, that one lay down his life for a friend.'
"I think that symbolizes what our fallen have done for us -- laying themselves aside and their personal freedoms so that we can live here today."
Seekell said there isn't a day that goes by that he doesn't think of the people he has served with in conflicts and what they did for him.
"We were all there together, and we all knew what we had to do so that we could go home and so the American people could go on," said Seekell, who now serves as kennel master for the military working dogs at Seymour Johnson Air Force Base.
Nearly 100 people attended Sunday's annual observance that was jointly sponsored by VFW Post 9959 and American Legion Post 103.
The ceremony included the placing of a wreath at the cemetery flagpole by the Mar Mac Fire Department Honor Guard and the lowering of the flag to half staff. "Taps" was played by Boy Scout Stephen Duprey and a Post Everlasting tribute to post members who died over the past year concluded the ceremony.
"I really appreciate this turnout," VFW Post 9959 Commander Ray Harrell said. "It is really heartening to me to see this many people turn out. Personally, I hate to see this relegated to just a three-day weekend for people."
Harrell said that as a child he could recall his father, a World War II veteran, and other veterans of that war talking about their experiences.
"Sometimes something would get on his mind, and he would have to talk to somebody," Harrell said. "Thank goodness I was too young to comprehend some of the things that he was describing at the time. Years later I have walked just enough steps in those shoes to have an insight into what those fellows went through.
"I wondered, 'It has been 15 or 20 years, you'd think they would forget all of that by now.' Now it has been about 40 for me and a lot of other fellows out here and the names, the faces, the sights, sounds and smells are as fresh as they were 40 years ago."
Seekell said it was his pleasure to serve and that he could not imagine doing anything else. It is a mentality shared by other service members that they serve because they want to and not because they are being forced to, he said.
He said he felt sure that he and all of the veterans at the ceremony, regardless of age probably could find something in common.
Seekell, 28, said that looking back over his military career that he didn't have the same mentality then that he has today.
"I think I was just content to be at work, do my job to the best of my ability, almost as if I wasn't aware of what all was going on around me," he said. "Now I wasn't always in combat operations as I was a couple of years ago with the military working dogs.
"I was more of a support element. I heard some things, and the things our troops are doing on the ground. I could see the history of our nation in combat. But I don't know that I devoted the kind of thought and reverence that I should have."
That all changed nearly three years ago while Seekell was serving at Bagram Air Base, Afghanistan. His job was to locate weapons caches, clear out the travels for convoys and otherwise keep troops safe on the ground so they could perform their operations.
On Mother's Day 2011, he was injured when an explosive device detonated beneath him.
The injuries were severe and resulted in his immediate evacuation to Walter Reed Medical Center in Washington, D.C. His left leg was amputated.
Seekell said he spent nearly four weeks in a hospital room with his wife and children and didn't see much of the outside world.
"I was contemplating how my life was going to be from then on out," he said. "I did a little bit of feeling sorry for myself. When I was healthy enough, according to the doctors anyway, I went down to the big physical training/therapy facility where they would teach me how to overcome my injuries. It was that one day, my first day out of my hospital room when things kind of clicked for me."
Seekell said he wheeled through the door because he was in a wheelchair and saw what appeared to be countless other men and women that were in the same shoes he was, working to overcome their injuries.
Other Local News