First Pentecostal Holiness Church remembers those who fought and came home
By Dennis Hill
Published in News on May 26, 2014 1:51 PM
Full Size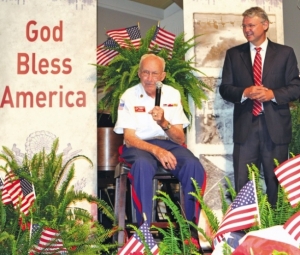 News-Argus/DENNIS HILL
Former Marine Bill Hartley, left, describes his time over- seas during World War II at a Memorial Day ceremony held at First Pentecostal Holiness Church on Sunday. Hartley, 91, was one of several veterans of the war who spoke. At right is Pastor Bill Rose.
First Pentecostal Holiness Church honored eight veterans of World War II during services Sunday, in a ceremony that recognized them as members of what is known as America's "Greatest Generation."
Members of the Army, Navy and Marine Corps, along with the sister of a soldier who was killed in combat, described their memories of the war fought so long ago.
"Never forget to fight for our faith," pastor Bill Rose said to the congregation. "We have to guard up and hold onto what we believe. Never forget to defend our freedom."
Rose drew a connection between freedom and faith.
"We're a country that was founded on faith," he said. "Our world needs people who believe the truth and hold onto the truth."
Woodrow Anderson, 93, served in the Navy in the Mediterranean and in the Pacific. Cecil Francisco, 88, also served in the Pacific.
Cleo Sutton, 86, joined the Army just out of Goldsboro High School when he was 18.
"If they called me today or tomorrow and said they needed me, I'd go back again," he said.
"Frank Gregory, 94, joined the Army when he was 19. James Coley, 88, was a member of patrol that got left behind when his unit pulled back and was captured.
Bill Hartley, 91, was in the Marine Corps and was on the island of Tinian when the plane carrying the atomic bomb took off from there.
Marvin Turner, 87, was in the Navy during the war. And Evelyn Westbrook was a schoolgirl selling war bonds while her brother, David Hill, was fighting in the Battle of the Bulge. He never came home.
"That was the saddest Christmas our family ever experienced," she said.
Despite the somberness of the mood, Hartley could not help but end the service by cracking wise with the pastor.
"There's not a one on this stage under the age of 80," he said. "Do you know why we're still here? We keep breathing."
Other Local News