Into the future -- Wayne School of Engineering
By Becky Barclay
Published in News on May 25, 2014 1:50 AM
More photos for this story are available in the

Full Size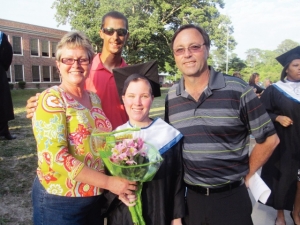 News-Argus/BECKY BARCLAY
Taylor Morawski is shown with mom Brenda, dad Michael and boyfriend, back, Tyler King. Five brain surgeries this year didn't stop her from graduating with her class.
When Taylor Morawski's name was called during the Wayne School of Engineering graduation ceremony Friday night, classmates, teachers and parents stood and applauded her wildly.
And with good reason.
Taylor had five brain surgeries this year, and it was not certain at first that she would graduate.
But she walked across the stage and received her diploma with a grin on her face from ear to ear.
Taylor has a brain condition that caused her to have to have a shunt. The shunt malfunctioned, causing the surgeries.
"My teachers, they said just don't worry about my work, just do the work when I come back," she said.
But since she had missed a total of 39 days during her senior year, Taylor had to take an exam. She passed with flying colors.
"I thought at one point that I might not graduate until next year," she said. "But then because I had a close relationship with my guidance counselor, I knew that she wouldn't let that happen. Then I had no doubt that I would graduate tonight with my class."
She is going to Wayne Community College to get the basic classes out of the way before she has to decide what she wants to do the rest of her life.
Graduation was also special for one former School of Engineering teacher, Lisa McGrath. She had Taylor as a freshman and sophomore before moving across country.
"But I've kept in contact with the kids, and they asked me to please be here tonight. So I just flew in Thursday," Ms. McGrath said. "These are my children, and they are our future. So I'm honored that they wanted me to be here. To see this happen is just thrilling."
When he got up graduation morning, Justin Cates was nervous and anxious and was just ready to get the day over with.
"It was rough my four years here," he said. "But I got through it. I decided to come to this school on my own because it was a good school. You had to be accepted to get in, so I knew it was going to be a good school."
He was relieved to have graduated, though, and plans to go to Fort Union in Virginia, a prep school for football, then transfer in December to a Division I school, where he will also play football.
During the graduation ceremonies, principal Gary Hales told the audience they had a lot to be proud of as they celebrated the successes of the 86 graduates.
Four of the graduates spoke to their classmates, teachers, parents and guests.
Destiny Dawson said the students have waited for this moment their whole lives.
She thanked her mother for being her backbone and not giving up on her.
"When I came here, I was loud and close-minded," Destiny said. "I learned how to work with other who are not like me. I would not change anything because coming here has helped me become the woman I am today."
She challenged her classmates: "When people tell you you can't, you can and you will. Let's be everything the school has taught us to be."
Meagan Hines said graduation was bittersweet because it's the end of one journey and the beginning of another.
"This school has helped us discover who we are," she said.
"Today we become accountable to ourselves, our future and society," Caroline Jones told her classmates. "We decide what we want to do for the rest of our lives. I know we will all succeed. We are all in this together."
Jocelyn Wooten challenged her classmates to remember what the school had instilled in them from Day One.
"Be who all of our teachers and families and friends have prepared us to be -- engineers of our future," Jocelyn said.
Following the turning of tassels, senior Hunter McCoy told his fellow graduates to be whatever they believed would make them happy.
He encouraged them to go on an adventure and to have an open mind for any experience that they might encounter in the future.
"And don't ever give up on anything you want to do," he said. "Be happy."
Other Local News