Team helps stranded boaters with stalled craft
By John Joyce
Published in News on May 19, 2014 1:46 PM
Full Size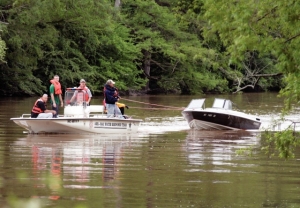 News-Argus/BOBBY WILLIAMS
The Arr-Mac Water Response Team responds to a power boat adrift Sunday afternoon on the Neuse River near Price's Landing.
The Arr-Mac Water Response Team launched its craft into the Neuse River Sunday afternoon to rescue a pair of stranded boaters.
Bradley Knapp and Corey Fletcher, both of Seymour Johnson Air Force Base, found themselves in trouble on the water when the motor on their power boat gave out and the current became too strong for the airmen to paddle against.
Knapp and Fletcher were able to catch a tree limb before being carried too far down the river.
The men managed to call for help resulting in the dispatch of the water response team which came to their aid.
Mar-Mac Fire Department also responded.
The Arr-Mac team reached Knapp and Fletcher, approximately 200 yards down the river from the boat ramp at Bill Lane Boulevard, and were able to recover their disabled craft.
Wayne County EMS 81 and deputies with the Wayne County Sheriff's Office were also called to the scene.
Knapp and Fletcher were both unharmed.
Other Local News