Student honored for effort to promote literacy for children
By From staff reports
Published in News on May 21, 2014 1:46 PM
Full Size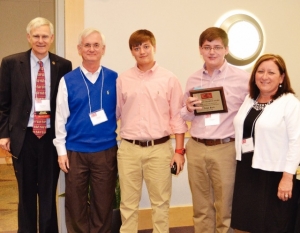 Submitted photo
Nolan Davis, second from right, was recently recognized for his efforts to encourage reading among young children, receiving the 2014 Literacy Champion Award at the Reach Out and Read Literacy Summit. From left, Dr. David Tayloe Jr. of Goldsboro Pediatrics, and Nolan's family, father, Mike Davis, his brother, Lance Davis, and mother, Bernice Davis.
A sophomore at Wayne Country Day School was recently honored for his efforts to help young children develop an interest in reading.
Nolan Davis received the 2014 Literacy Champion Award during the Reach Out and Read Literacy Summit.
The national Reach Out and Read program has been a partnership with doctors and medical professionals who encourage parents to read regularly with their children, and distributes free developmentally and culturally appropriate books. Goldsboro Pediatrics and its affiliate offices have been affiliated with the program for years.
Davis, a patient at Mount Olive Pediatrics, launched a campaign this past Christmas to raise money and books to distribute at the four pediatrics offices for children from 6 months to 5 years old.
His initial goal was $2,000. But the effort surpassed that, generating $6,500 for Reach Out and Read.
Other Local News