Retirement rule will delay Gurley appointment a month
By Steve Herring
Published in News on May 21, 2014 1:46 PM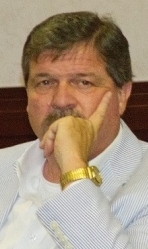 Joe Gurley
The swearing-in ceremony for Joe Gurley as the new District 4 Wayne County commissioner has been delayed to avoid a possible conflict with the state retirement system.
Gurley, who was appointed to the board earlier this month by commissioners, was to have taken office June 1, but that has now been pushed back to July 1.
The ceremony will be held at 8 a.m. that day in Superior Courtroom No. 1 in the Wayne County Courthouse.
Gurley's appointment is only through early December.
The full term does not expire until December 2016, but since the vacancy occurred within the first two years of a four-year term, the final two years have to be decided by an election.
District 4 includes much of western Wayne County from the Duplin County line to north of the Rosewood community.
The office became open in late April when Republican Steve Keen resigned to take a position in Gov. Pat McCrory's administration.
Since Keen was a Republican, the seat had to be filled through a recommendation by the Wayne County Republican Party Executive Committee.
The GOP's recommendation that Gurley be appointed was unanimously approved by commissioners earlier this month, who initially scheduled the swearing in for June 1.
Gurley, director of the Wayne County Office of Emergency Services, had planned to work through May 31 and then take office.
However, Interim County Manager George Wood Tuesday said that it had been discovered that is not possible, forcing the delay.
"There is a provision in state law that when an employee retires from the N.C. Carolina Local Employees Retirement System that they cannot do any work for a government entity that is also in that Employees Retirement System for that first month that they are retired," Wood said. "The reason that I am telling you that is that technically when you are on the board of commissioners you receive compensation.
"So you are considered an employee for the purpose of that retirement system. This came up because we were discussing Joe Gurley's retirement."
That also means that he cannot volunteer to serve on the board, he said.
"We are going to need to delay his swearing in until July 1," Wood said. "Otherwise it jeopardizes his retirement. That is a retirement system rule."
Wood suggested that the swearing-in ceremony be held prior to the start of the July 1 meeting so that there would be a full board.
Commissioner Joe Daughtery's motion to delay the appointment was unanimously approved.
Wayne County Board of Elections Director Rosemary Blizzard Wednesday morning said she had not received any word from either the Democrat or Republican parties as to whom they would appoint to run for that seat in November.
Gurley has said he plans to run.
The Democrats did ask for a voter list for the district, she said.
There is no specific deadline for the Republicans, Democrats and even the Libertarians to appoint someone to run in November.
However, it takes several weeks to prepare ballots, and absentee ballots must go out by Sept. 5, Mrs. Blizzard said.
There are two deadlines for the November ballot.
June 27 at noon is the deadline for people to file as an unaffiliated candidate, and Aug. 6 at noon is the deadline for people to file as a write-in candidate.
The Aug. 6 deadline is the one to keep in mind, Mrs. Blizzard said.
Other Local News