Fire does $50,000 in damage
By John Joyce
Published in News on May 20, 2014 1:46 PM
Full Size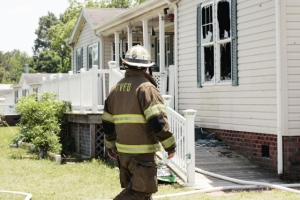 News-Argus/BOBBY WILLIAMS
A firefighter eyes damage to a mobile home on Weaver Road Monday afternoon. Investigators said the electrical fire started in the rear of the house.
Firefighters dispatched to a working structure fire at a mobile home in the Grantham area Monday were able to extinguish the blaze before it became a total loss.
The Thoroughfare, Grantham and Mar Mac Fire Department's responded to 381 Weaver Road to find a double wide trailer fully involved in flames.
According to officials at the scene, the electrical fire started in one of the back rooms of the house and spread throughout the home.
The owners, Gary and Jamie Davis, were not home at the time but arrived on scene while firemen were inside the home battling the fire.
Fire officials estimate the damage of the $75,000 property at $50,000.
Other Local News