Survivor strong
By Phyllis Moore
Published in News on May 17, 2014 10:37 PM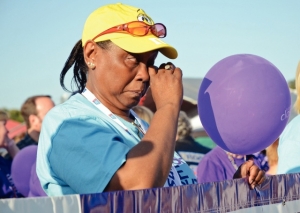 News-Argus/CASEY MOZINGO
Tanya Blount, a 22 year ovarian cancer survivor, wipes a tear from her eye as she holds the banner to lead the Relay for Life survivors walk Friday at the Wayne County Fairgrounds. She said "This is tough" as she remembers friends and family that have lost their battle with cancer throughout the years.
Getting a diagnosis of cancer is not for the faint of heart.
Time stands still.
Everything goes silent.
And being a survivor starts that very first day.
Just ask anyone who has been in the trenches.
For most, the first words out of their mouths will contain a number.
"I'm a 10-year survivor," said Ann Forsythe, preparing for the Survivors' Walk at Relay for Life on Friday evening.
Her battle was with breast cancer, but these days, she says she's feeling good.
"I get tired but I was very, very blessed, very fortunate because when they found it, I did not have chemo, I did not have radiation. I had a mastectomy but I was very blessed," she said. "(The doctor) found one little dot on my mammogram. It was no bigger than the point of that pen. But I was fortunate because they found it. It spread fast. In the three weeks I was waiting for surgery, it had left the duct and gone from zero stage to Stage 1."
Not everyone is so lucky, though.
"In 2011, I lost my brother. He lasted eight months with cancer," she said. "This past year I lost my sister. She lasted eight weeks. It's unreal. And they were younger than me. I'm 75."
Erica Rarick was at the event with family lending support for her father, Danny Parrish.
Diagnosed in 2009 with colon cancer, last year during a scan doctors found a dot on his lung.
"They had to go take the whole bottom lobe of his left lung," Mrs. Rarick said. He was also given chemotherapy.
"He's fantastic," she said. "Thank God he's good. A lot prayers. It makes you realize what's important."
Linda Jones is "two years out" from her diagnosis, liver cancer.
She said she turns out for the Relay event, and especially the Survivors' Walk, every year.
Faye Strickland of Goldsboro, now a 10-year survivor, had non-Hodgkins lymphoma.
Her twin sister, Kaye, of Pink Hill, was especially supportive.
"She took me to every treatment I was at (in Greenville)," she said.
Leland Walters of Goldsboro might be a walking advertisement for the value of having a sense of humor.
Wearing an umbrella hat, he first introduced himself as "SpongeBob" as he arrived on the track at the fairgrounds. He said he has participated in the walk every year since being diagnosed with colon cancer.
Now celebrating 16 years cancer-free, he said, "I'm doing good. God took care of it. I don't have it any more."
Sue Hood Hill has lost count of how many years she's been a supporter of Relay -- 15, maybe 16 years, she said.
It became personal when she was diagnosed with skin cancer.
"I came to pick up my son (from Relay)," she said. "He was putting out luminaries with the Boy Scouts. I said if I live until next year, I will be part of this."
The fighting spirit remains alive in Vicki Davis, celebrating five years since being told she had colon cancer.
"I had an infusion today at 2 o'clock," she said. "I said, 'I've got to go and walk tonight.'"
One common thread among survivors is that they often have no trouble keeping track of the date they were given the news that cancer had been found.
"Yesterday (Thursday) was my 13th year since I was diagnosed," said Susan Sutton, who had breast cancer. "I have a big long story to tell today. But there were a lot of God moments that happened."
She was also keenly aware of those who could not be at Relay. Her pastor at Garris Chapel, Jerry Mitchell, passed away four days before event after a hard-fought battle with pancreatic cancer.
"He would want to be here," she said, adding that no one probably knew just how much he endured and suffered because he never complained.
In the aftermath of his death, the church members have pulled together, she said.
"God has a plan," she said. "And Jerry always talked about when he'd pray for people, there's an ultimate healing (in heaven)."
Childhood pals Marilyn Weeks and Jane Holmes strolled around the track taking in the sights.
"We've been friends since the eighth grade," Ms. Weeks said.
"Ninth grade," corrected Ms. Holmes.
Now 66, they could agree on the fact that they graduated from Goldsboro High School in 1965. And the bond they shared after both were diagnosed with breast cancer.
"She was with me, brought me roses and everything," Ms. Weeks said.
For some, though, surviving takes on a whole new meaning when someone especially close is lost to the disease.
Lisa Wells has been team leader for Rays of Hope for the past four years, following the loss of her son, Billy. He died of a rare form of testicular cancer four years ago, at age 30.
"Billy was my only child. I have no grandchildren, will never. I do this for him," she said. "It makes me feel good to know that the money that we're raising could possibly help (others)."
Mrs. Wells' team chose a western theme for their booth this year.
"I raised $1,000," said team member Maria Moskovakis, who is participating in Relay for the second year.
"She's an awesome fundraiser," Ms. Wells said.
Other Local News