Meals on Wheels makes deliveries prior to closing
By Phyllis Moore
Published in News on September 13, 2018 5:50 AM
Full Size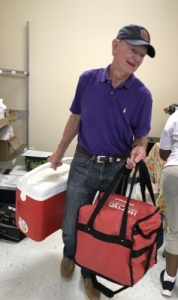 News-Argus/PHYLLIS MOORE
Bobby Grady, a volunteer with Meals on Wheels, carries food to be delivered to clients in Elroy, along with additional nonperishables to sustain them while WAGES is closed today and Friday in anticipation of the hurricane.
Meals on Wheels volunteers turned out early Wednesday to collect provisions and start on their routes and make sure clients were safe before the storm.
The situation was complicated by the fact that WAGES will be closed today and Friday, said Brownie Doss, Meals on Wheels director.
"We have sent out emergency messages, we sent out instructions last week on how to be prepared for the hurricane," she said. "We got emergency meals together (Tuesday)."
The additional shelf staples, non-perishables, will hopefully tide over the program's recipients, she said.
"They're going out today (Wednesday) -- as soon as we can deliver again, we will," she said.
Bobby Grady loaded up his vehicle and prepared to head out to his route, accompanied by his wife, Carolyn. The members of New Hope Friends Church said they have participated in making deliveries for 10 to 12 years.
"Right now, we have got 11 (clients)," Bobby Grady said. "It's just really rewarding."
"We're serving the Lord," his wife chimed in.
"We like to help," Bobby Grady said, adding, "just to make sure everything is taken care of and trying to help someone. It's a blessing."
Andrea Bone, volunteer coordinator, praised all the volunteers who staff the program and keep it going.
"They have been really good," she said. "We have even had some that have called and offered to come tomorrow (Thursday)," she said. "They're really dedicated. A lot of them get really close to the people.
"Some of them have been delivering the same route for 20 years."
Other Local News