Wayne under flash-flood watch
By Steve Herring
Published in News on September 13, 2018 5:50 AM
Full Size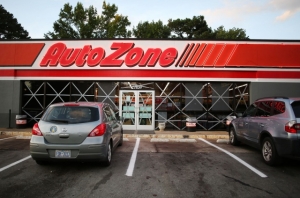 News-Argus/CASEY MOZINGO
Giant X's made out of tape are seen in the windows of AutoZone on Ash Street Wednesday night, as businesses brace for the storm.
The National Weather Service in Raleigh has issued a flash-flood watch for a portion of the Coastal Plain and Sandhills, including Wayne, Sampson and Cumberland counties, from 8 a.m. today through 8 p.m. Saturday.
Wayne County also is under a tropical storm warning as Hurricane Florence approaches the coast. Tropical storm-force winds are expected within the next 36 hours, with wind speeds picking up today.
Wind speeds of 40 to 50 mph and gusts of 65 mph are predicted in the afternoon and expected to continue until Saturday night.
The county also remains under a hurricane watch with a potential for winds greater than 110 mph as the storm makes landfall Friday afternoon, according to the National Weather Service.
As of 5 p.m. Wednesday, Florence was packing sustained winds of 120 mph, down from 130 mph earlier Wednesday, and was located about 385 miles southeast of Wilmington.
It is still a major and life-threatening hurricane, despite the slight drop in wind speed. It was moving northwest at 16 mph.
Florence is expected to slow as it nears the North Carolina coast with landfall just north of the North Carolina and South Carolina border around 2 p.m. Friday.
The storm is expected to stall Friday with little movement before it turns and moves slowly southwest along the coastline and into South Carolina around 2 p.m. on Saturday.
There remains some uncertainty as to the track, forecasters report.
However, the main threat remains flooding as Florence's slow movement will produce a prolonged period of heavy rainfall across the Coastal Plain and Sandhills, according to the National Weather Service.
Initial rain bands are expected by this afternoon with the heaviest rains Friday, Friday night and into Saturday. The rain will come in waves, but could last for 36 hours or more.
Flash flooding of creeks, rivers, streams, nearby roadways and washouts of area bridges are likely.
Rick Fletcher, Goldsboro's public works director, said flooding likely will take one of two forms: either flash flooding -- rapid flooding caused by heavy rainfall in low-lying areas -- or "river creep" caused by the overflowing of the Neuse River.
"Flash flooding is localized," Fletcher said. "It's unpredictable. It's really based on topography, anywhere you have lower elevation, and on the amount of rain that we get."
With enough rain in a short period of time, any spot of ground that is lower than the surrounding area could fill with water faster than it is able to drain away, leading to flash flooding.
-- Staff writer Joey Pitchford contributed to this article.
Other Local News