Dive team readies equipment for swift-water rescues
By Casey Mozingo
Published in News on September 13, 2018 5:50 AM
Full Size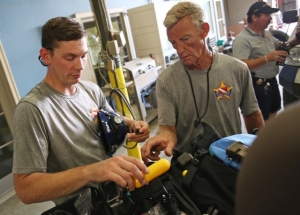 News-Argus/CASEY MOZINGO
John Holskey and Ken Barrett adjust the camera on their gear Wednesday as the Wayne County Sheriff's Office Dive Team does a final check before Hurricane Florence's arrival.
Full Size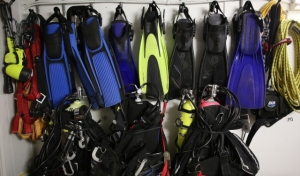 News-Argus/CASEY MOZINGO
The team's gear hangs in a trailer, ready in case a drowning victim needs emergency assistance.
During Hurricane Matthew, 27 people were rescued from rushing water at the intersection of Wayne Memorial Drive and Country Day Road during the flash-flooding that occurred as the storm began.
Those 27 people were among the numerous Wayne County residents who attempted to drive or walk through moving water.
Water-rescue efforts during hurricanes like Matthew and the impending Hurricane Florence are a joint effort from teams of first responders, like those on the Wayne County Sheriff's Office Dive Team.
"We're a two-fold team," said Detective James Cornell, who is in charge of the team. "We're a dive team and a swift-water team."
Even though the team is trained to perform underwater searches, Cornell anticipates they will only be doing swift-water rescues in the coming days, unless there is a missing victim or possible drowning.
After responding to calls from people trapped in vehicles during flash floods, the team will concentrate on rescuing people trapped inside their homes.
"In any event, our primary goal is to get everyone out of the water," he said.
During Hurricane Matthew, the dive team was on duty for nine straight days.
The team gathered Wednesday inside the warehouse where a trailer and rescue boats were stored to prepare for the threat of flooding from Hurricane Florence.
Team members changed all of the fluids on the boat, charged batteries and checked all of their personal swift-water gear.
The dive team will be hitting the water with a new Excel mud boat that was purchased using drug seizure money in February.
"That boat gives us the capability to get into areas that a normal boat can't get," Cornell said.
Because of the Mud Buddy engine, the new boat is capable of driving over logs and through shallow water, which are an issue with some parts of the Neuse River.
Currently, the team's Zodiac boat is out of service, so the team will use boats that belong to several team members to assist during rescue efforts.
"We have a base amount of equipment to do moderate to small operations," Cornell said. "We'll use personal equipment to support what we do to service the people of Wayne County."
Other Local News