Deadly Combination Part II -- The Susceptible: The path to prevention - Curbing with COPE
By Joey Pitchford
Published in News on December 7, 2017 5:50 AM
Full Size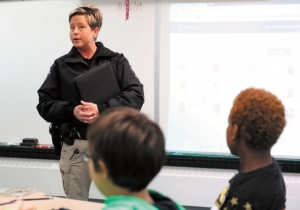 News-Argus/CASEY MOZINGO
Community Oriented Prevention Education organizer Robin Stine introduces herself to a group of fifth-grade students at Fremont STARS. She has been teaching the voluntary COPE program, which focuses on drug awareness, gangs and bullying, in schools for four years.
Full Size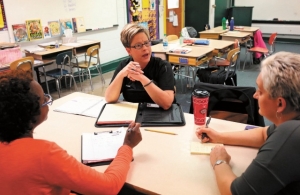 News-Argus/CASEY MOZINGO
Community Oriented Prevention Education organizer Robin Stine speaks with fifth-grade teachers Vickie Atkinson and Susan Boswell at Fremont STARS as they make plans for the two-day COPE lectures in their classrooms.
Full Size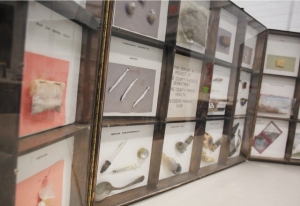 News-Argus/CASEY MOZINGO
Robin Stine uses this display of confiscated items during her COPE lecture that focuses on drug awareness. The board is a bit outdated and she hopes to update it soon with more relevant drugs and paraphernalia that the kids are more likely to see, but it is still helpful with getting the students involved in the discussion.
Wayne County Sheriff's Deputy Robin Stine believes the path to drug prevention starts early in life.
Stine is the instructor for the Community Oriented Prevention Education program, a Wayne County Sheriff's Office initiative designed to teach fifth-grade students about the dangers of drug use. With the opioid epidemic continuing to impact Wayne County, getting to students early on so they know the risks of drug use is more important than ever.
"The kids are seeing these things at home, and more at school," Stine said. "Kids don't understand the reactions they can have to drugs, or how they can be abused."
As opioid overdoses continue to pile up, the program has had to shift gears in order to address the emerging issues.
"We actually added a segment on prescription medications last year," Stine said. "They are more readily accessible because they're being prescribed."
Stine has seen several changes come to the COPE program over the years. It began as a five-day program, covering a wider array of topics. The program was shortened to two days in an attempt to more carefully focus it, Stine said.
"We removed some stuff just so that we could condense it down, get to the meat and potatoes," she said. "We wanted it to be more of a straightforward conversation."
The sheriff's office holds the COPE program every year. The program is voluntary, and Stine said 11 schools took part last year. A 16-year law enforcement veteran, Stine said she has encountered issues stemming from students' perception of drugs.
"Some of them have had that exposure by fifth-grade, and they're learning by example," she said. "For instance, in the case of marijuana, they're hearing that it's a good thing. They'll speak up in class and say, 'But I've heard this is actually good for you,' and I have to tell them that, no, the information you've been given is incorrect."
Stine occasionally hears stories from her students during instruction. While she has not come across a student abusing heroin or prescription drugs, she said that the culture of drug use often surrounds them.
"The kids are generally aware of it," she said. "It's difficult to get away, especially with social media and what they see on TV."
Coming into the 2017-18 school year, Stine has begun talking with teachers at several schools about how to implement COPE. She expects to begin teaching the course the week before Christmas break.
Tracking the effectiveness of COPE is difficult, Stine said, because it all comes down to how much individual students retain and remember. Some may remember the course years later, others not, but Stine still feels like COPE is a meaningful endeavor.
"As far as statistics to show how successful it is, we don't have those, but I would love to see them," she said. "I do think it's a worthwhile thing to be doing, though, I really do."