Deadly Combination Part II -- The Susceptible: Where it starts - Drugs and youth
By Joey Pitchford
Published in News on December 7, 2017 5:50 AM
Full Size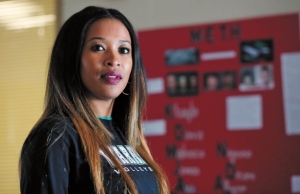 News-Argus/CASEY MOZINGO
Juliet Jones stands in front of a display board about meth at Eastern Wayne High School. The display was made by some of her students. The health education teacher uses both classroom and one-on-one time to discuss the dangers of drugs with her students.
As opioid addiction continues to impact Wayne County, students are coming face-to-face with drugs in their daily lives, both at home and at school.
Juliet Jones is a health and physical education teacher at Eastern Wayne High School. She said she knows the plight of her students well, and drug education is an increasingly important part of her curriculum.
That is because there is a combination of emerging factors that make her students more and more susceptible to drugs.
"When I went to school here, of course you (would) see drug use and all that, but it's definitely prevalent now," she said. "We talk about anything from alcohol to tobacco to drugs, hard drugs ---- gateway drugs that lead to hard drugs. We've found that opioids have been a big issue in this area."
In particular, Jones said, pain pills like Xanax have become increasingly popular among younger people. This, she said, is due to a "perfect storm" of factors which make taking the drugs fairly appealing.
First off, Jones said, students are dealing with higher rates of anxiety than ever before. Whether through constant information overload from social media and 24-hour news, increasingly demanding school tests or simply due to the stresses of growing up in a post-Sept. 11 world, students are often left looking for a way to help them cope with more pressure than they are equipped to handle.
"Our teenagers in today's society are dealing with a lot. Home life, you have kids having to grow up and, for some young men, being the man of the house," she said. "I found, even statistically, most people that do these prescription drugs, it's to not feel what's been going on, or not feel how life has made them hard. It's a way of escape."
When a teen is feeling that stressed and desperate for a way out, Jones said, prescription drugs are an easily attainable way to feel better for a time.
"Opioids have really become an epidemic, they're very easy to get," she said. "Most kids that have it, they get it for anxiety, and they give it to their friends. A lot of times kids have sports injuries and find themselves doing that."
That ease of use also comes with peer pressure. Pain pills appear harmless and are far easier to ingest than opiates like heroin, Jones said, which means that students are more easily coerced into using them.
The end result is an overwhelmed teen desperately looking for a way out, who is suddenly shown an easy and painless way to relax and encouraged to use it by peers. From there, dependence forms easily.
Drug incidents in Wayne County Public Schools were down substantially in the 2015-16 school year compared to previous years, according to the North Carolina Department of Public Instruction's annual Crime and Violence Report. From 2011 until 2015, the number of reports of possession of a controlled substance grew to the point that the district saw 47 such reports in the 2014-15 school year. Then, in 2015-16, the number dropped dramatically to 22 reports.
That drop in incidents brought Wayne County closer in line with other surrounding counties. Johnston County Schools had 60 such reports in 2015-16, around three times Wayne County's number, but had an average daily membership of 34,452, nearly double that of the 18,505 WCPS students that year.
The number of possession reports in WCPS was lower than several surrounding counties with smaller student populations in 2015-16. In Wilson County, where the average daily membership was 12,072, the number of possession of a controlled substance reports hit 41, while Duplin County Public Schools saw 29 such reports from an average daily membership of 9,690. Lenoir County had 39 reports, from an average daily membership of 8,846.
Given her position of trust and authority, Jones said she tries to give her students advice whenever possible. While she has not had any students come to her who admit to actively using drugs, she frequently hears stories of students being offered drugs in the community.
Sometimes, teasing those stories out of a student takes a bit of work. Building trust is important, Jones said, but so is knowing what to look for.
"You have to know your kids," she said. "If I see one of my girls come in one day and they're acting differently, I'm going to notice, and I'm going to ask them what's going on."
Michael Dunsmore, WCPS superintendent, said that drug use has a major impact on a student's ability to learn. Dunsmore has a background in school counseling, and said that he has seen the effects of drug abuse in students.
"It definitely has a negative effect, any kind of mind-altering substance," he said. "I've seen far too many kids spiral out of control because they couldn't control the effects of what they were taking."
Even those students who are not taking drugs themselves are likely to feel the impact if they are exposed to drug abuse at home. If a drug habit impedes a parent's ability to take care of a child, for instance, the child's school life will inevitably suffer, Dunsmore said.
"I think when the students see it at home, school can become something of a safe zone for them, and then it's imperative that they connect with a trusted adult," he said. "It depends on who in the family is doing it. I was always told that if your basic needs are not met, whether you're hungry or cold or anything, you're never going to be able to learn to your full potential."
Being that trusted adult for students surrounded by drug use is part of how Jones views her duty as a teacher. The fight against opioid addiction is an ongoing one, and one without a clear end point. For Jones, the mission is simple ---- do whatever she can.
"I really believe that, if I can save one, I've done my job."