Charles B. Aycock 2017 grads celebrate academic and athletic achievements
By Rochelle Moore
Published in News on June 13, 2017 9:39 PM
Full Size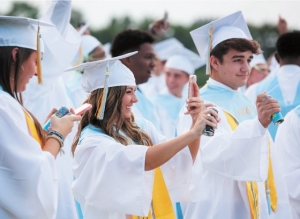 News-Argus/CASEY MOZINGO
Graduates of Charles B. Aycock High School spray silly string and take photos as they celebrate Tuesday night.
PIKEVILLE -- The Charles B. Aycock High School graduating class excelled in academics and athletics and was praised for its success during the 56th commencement ceremony Tuesday.
"The accomplishments you have achieved are inspiring, and you should be proud of all that you have accomplished," said principal Earl Moore.
Almost half of the 323 graduates of the Class of 2017 -- 147 --graduated with honors, including 80 that were also named North Carolina scholars.
Two seniors graduated earlier in the year, after receiving full-ride college scholarships to play sports.
"Graduates, we are special because we are different from every other graduating class," said Valedictorian Matthew Hare, during his commencement address. "Our journey is distinct from any other class.
"We accomplished numerous feats through our four years, both in athletics and academics. "
Track set many individual and team relay school records, baseball won conference championships, softball made it to the state championship and the football team beat its rival Eastern Wayne High School by 31 points, Hare said.
Many seniors will also go to their college of choice, after making strides in academics.
"All of these memories and experiences have shaped us, and although we will go in many different directions tonight, no matter where we go in life, we will always share one unique bond," Hare said. "We are all graduates of Charles B. Aycock."
Salutatorian Alicia Stanton also reflected on the past four years while looking to the future.
"Remember all that hard work you've invested, and use that to drive you to gratifying success," Stanton said. "When you're pursuing your futures . . . do what makes you happy. Give it your all and a little extra, too, and please never be afraid of dreaming too big."
After receiving their diplomas and turning their tassels, the Golden Falcons waited anxiously to celebrate as Moore said they will always be family.
"You have learned your lesson well and now it is time to release you from the Falcon's nest," Moore said. "It is my duty as the daddy Falcon to give you your wings to fly, Falcons, fly."