Berkeley Mall evacuated at closing due to electrical short
By John Joyce
Published in News on June 1, 2017 9:25 PM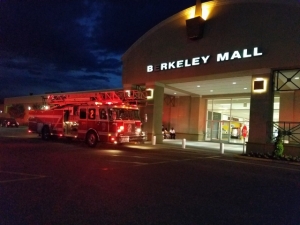 News-Argus/JOHN JOYCE
The Goldsboro Fire Department responded to a report of a sparking or smoking electrical outlet at Be
Guests were asked to clear out of an already closing Berkeley Mall just before 9 p.m. Thursday as the Goldsboro Fire Department was called in to check out a sparking electrical outlet in the floor near a kiosk.
Assistant Fire Chief Eric Lancaster said a security guard noticed an outlet sparking or smoking either in the floor of the open mall area or near the floor in the area around one of the free-standing cell phone huts.
The fire department had responded just the night before to a sprinkler head having popped inside the GNC (General Nutrition Centers) store inside the mall.
Lancaster said the fire department shift working Wednesday night reported extensive damage ---- although he couldn't confirm an exact amount ---- to the merchandise inside the store.
"Water had gotten all over and covered the floor before they could get it shut off," he said.
It was unknown at the time of this report if the electrical outlet in question was near to the GNC store or if the two incidents were at all related.
Other Local News