Third time's a charm
By Phyllis Moore
Published in News on May 23, 2017 9:57 AM
Full Size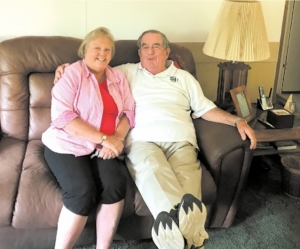 News-Argus/PHYLLIS MOORE
Mick and Karin O'Donnell reminisce about meeting in Japan in the 1960s -- he in the Air Force, she a military dependent -- striking up a friendship that led to their getting married three times during the week of May 22 through 27, 1967.
Full Size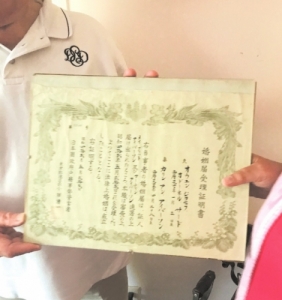 News-Argus/PHYLLIS MOORE
The O'Donnells hold the Japanese marriage license issued to them when they wed in 1967.
You can say "Happy Anniversary" to Mick and Karin O'Donnell any time this week and still be correct.
The Dudley couple couldn't be more legally wed if they tried.
That's because in 1967, they had three ceremonies.
Instead of celebrating their 50th anniversary, Mick jokes that they have been married 150 years.
"We have always been married longer than anyone else," his wife chuckled.
Their unique situation happened because they were wed in a foreign country -- Karin was a military dependent, Mick serving his 21 years in the Air Force.
A chance meeting during a layover led up to the couple's union.
Mick was stationed at Maguire Air Force Base in New Jersey but his job entailed flying to Vietnam. On one of the routine trips, he had a stopover in Japan at Tachikawa AFB, where Karin's father was stationed.
"I had about six to eight hours to kill and just said I'm going to go and soak up some sun at the pool," he recalls. "When I got there, the pool was closed because there was a lifesaving class being taught by Karin."
Intrigued, he hung around until the class ended. The attractive blonde approached and asked what he wanted.
They wound up talking for about three hours.
When they parted, he told the 21-year-old he would be back in a few weeks and if she was free, he would like to take her to dinner and a movie.
"I was only there because during the previous year I had lived in Tokyo and had gone to Japanese language school and taught for Mitsubishi and Sony, taught English for a while and then went to Sophia University in the evening," she said. "I had moved home to get American money to come back to the states and finish my degree."
A friendship blossomed. Mick, 26 when they met, had told her at the outset he was planning to get engaged at Christmas.
That proved to be short-lived, he said, even though he was "the last one to admit it."
"All the traveling I did, I always thought, I wish I had somebody to share this with," he said.
He soon realized, like she did, that the engagement with the other girl wasn't going to happen.
Instead, in February he proposed to Karin.
They had only spent a total of 14 whole or partial days together over 10 months, she said with a laugh.
And yet they knew.
"Mick was one of the most caring people I had met, and he seemed to have strong family ties, which was important to me," Karin said. "He was more mature than some people I had dated, and we had the same values.
"We talked about what we wanted and where we were going and what that means, about the world and our hopes."
Their wedding date was set for May 27, 1967.
"We celebrate May 22-27 because you have to go almost a week early to do the official stuff (overseas) -- the American Embassy and the Japanese Ward Office, like the county seat, where they register and give your Japanese license," she explained. "And then you can have your church wedding."
Two ceremonies in, they were legally wed, the couple said.
But then came the call from the parish priest.
"Father McManus said he wanted to let us know that even though we were legally married, as far as he was concerned we were not married until we walked down the aisle of his church on base," Mick said. "Her dad roared and said, 'I knew I liked that man for some reason.'
"(He said), 'Mick, you can stay as late as you want tonight but Karin sleeps in her bedroom, and you sleep in the (barracks).'"
The couple went on to have three daughters, five grandchildren and one great-grandchild.
They moved to Wayne County in 1997.
He taught in the Navy after retiring from the Air Force and now works with an organization he created, ROC, Retirees on Call, where military retirees volunteer to support spouses and families. It has gained momentum and is being replicated at other bases around the country.
Mrs. O'Donnell earned two master's degree, teaching at such local schools as St. Mary, James Sprunt Community College and Southern Wayne High School. She is currently pursuing her Master of Divinity degree, hoping to be ordained in the Lutheran Church.
They renewed their vows once already, five years ago for their 45th anniversary, with Father McManus performing the ceremony in Pennsylvania. He died this past February, O'Donnell said.
They plan to have another vow renewal June 4, then take a 10-day honeymoon of sorts the next month to Rome and Tuscany.
Mr. and Mrs. O'Donnell, now 77 and 72, respectively, shared a few reasons for their long union.
O'Donnell said he often kids that he has a two-word secret: "Yes, dear."
Getting serious, he credits his wife's example of caring that has made him a better "Christian-slash-Catholic" than he might have been otherwise.
One thing she learned in psychology, she said, is that similarities may bring people together but it is the differences that keep them together.
"Certainly respect for each other in many ways," Mrs. O'Donnell said. "I mean, Mick's Republican, I'm a Democrat. He's Catholic and I'm Lutheran.
"We have maintained those differences and yet we share each other's. I think there's a respect for who the person is and their goals and what they want to do."
Other Local News