Not a noose: City says photo of a hanger was "taken out of context"
By Rochelle Moore
Published in News on May 10, 2017 10:12 AM
Full Size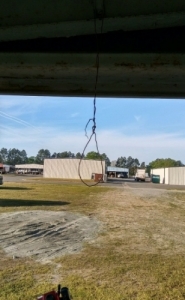 Submitted photo
City officials say a clothes hanger used to hold wire baskets as they are painted inside a public works department facility was confused for noose and taken by some employees as an indication of racial discrimination. City Councilman Antonio Williams shared the photo on social media Tuesday night with the hashtag #Notonmywatch and with a quote from author/activist James Baldwin.
The picture of a clothes hanger used to hold items painted by Goldsboro public works employees has led to a city investigation and continued concern within the department.
The photo, which appeared on Facebook Tuesday was originally taken by a public works employee in early April, said Rick Fletcher, Goldsboro public works director.
The photo of the hanger, wrapped in a loop, has been taken out of context and was taken in an "ominous" fashion to create an appearance of a noose, Fletcher said.
Public works employees commonly use hangers to hold in place different items, like hanging baskets used in the downtown area, while they are painted by city employees.
"That's all it was," Fletcher said. "Unfortunately, it's in a loop and it looks like a noose. This is nothing. This is absolutely nothing. If it had been a rope with a slipknot, it would be different."
On April 10, a city employee was cutting grass near the paint shop and noticed the hanger and snapped the photo. Fletcher said the picture didn't include any background of the paint shop that offers a full context that the hanger was used during regular painting jobs under a carport in a work environment.
Instead the photo was taken with the sky as it's background, similar to what could appear in an old western scene, Fletcher said.
"It's unfortunate that the picture was taken out of context," Fletcher said. "They took it to look ominous."
Two public works employees complained in April, and Fletcher thought the concerns were addressed. Three weeks later, Fletcher was asked by the employees if a city investigation had taken place.
An investigation was not launched in early April but instead more recently, said Pamela Leake, Goldsboro human resources interim director.
"It was brought to my attention last week, May 1," Leake said.
The human resource director's investigation found no racial motivation or racial intent related to the hanger. City Manager Scott Stevens said the department has used hangers to hold items in place for a while, but the hanger had been left out in view for probably several weeks.
"Pam has investigated and found no racial motivation for the use of this hanger," Stevens said. "However, we have instructed our superintendent not to use this type of hanger any longer."
The hanger was removed in April as soon as the concerns were voiced by employees, Fletcher said.
The employees who originally complained were not satisfied with the results of the investigation, which led to the issue being raised by Councilman Antonio Williams during a closed session Monday night.
Before entering the closed session, Williams said, "It's a hate crime."
Stevens said Tuesday night that he shared with the entire council what had taken place and provided an explanation about the hanger and result of the investigation. Stevens emailed the hanger photo to city council members Tuesday.
Williams then posted the photo to his Facebook page and shared it to Councilman Bevan Foster's Facebook page. Since Tuesday evening, the photo has been shared to 19 other Facebook pages.
Along with the photo, Williams said, "Our city employee will not be intimidated by actions such as this photo. This is disturbing and will not be tolerated in any of our city departments @bevanfoster. #Notonmywatch #transparency.
"James Baldwin said it best, 'How can I believe what you say when I see what you do.'"
The social media activity, as well as continued concern within the public works department, led Fletcher and Leake to meet with 55 to 60 public works employees this morning. The two directors also plan to meet with the remaining public works employees tomorrow.
The human resources director has been present in an effort to present the results of her investigation to employees.
"It's to quell the rumors," Fletcher said. "I just met with a group of employees who didn't even know about it.
"Right now, with the racial tension in America and in the city, it doesn't take much to throw fuel on the fire. There are people out there that want to spread racial tension in the city."
Leake's investigation included talks with employees involved in the painting process and use of the hangers. She had the employees walk her through how the hangers are used.
"There was nothing racial about it," Leake said. "It was a metal wire. It's actually used to hang baskets that are used downtown. There was nothing racially motivated or any racial intent."
Leake told employees they may talk with her or Fletcher at any time, if they have questions or concerns.
During the morning meetings, Leake said she heard "a few grumblings."
"We did make them aware if they still had concerns that Rick is available and I am as well," Leake said.