Military spouses get 'thank-yous'
By Josh Ellerbrock
Published in News on May 19, 2014 1:46 PM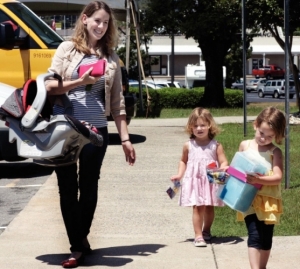 News-Argus/BOBBY WILLIAMS
Holding her infant son John, Sarah Trosclair walks to her car with her daughters Emma, 2, and Ella, 4, after receiving a shoe box full of comforting supplies from the Support Military Spouses event at the Community Federal Credit Union Friday.
Tucking a child carrier under one arm and holding the hands of her two daughters with the other, Sarah Trosclair added a fourth bundle to her full armload -- one shoe box.
Despite adding to her juggling act, the box was meant to lessen the stress and give her some time away from her job as a military wife.
During the Support Military Spouses "Shoe Box Delivery" event held at the North Carolina Community Federal Credit Union Friday, husbands and wives of service members had the option to pick up a box full of stress relievers -- coffee, soaps and gift cards -- in a symbolic handout of support.
"I think it's wonderful they support the families," Mrs. Trosclair said. "It's great when they come and give these out."
At this point, her daughters Emma and Ella had grabbed the box and were holding it.
"They think it's a present" she said.
In a way, it is.
Support Military Spouses, formed five years ago by the Rev. Dr. Steve Rumley and his wife, Diane, has created thousands of boxes that are given to those who stand beside those who wear the nation's uniform.
"It's solely to say thank you to the spouses," Steve said. "We say thank you and we appreciate everything you do. We know what you do. You're keeping things together."
"It's a simple way for spouses to know they're appreciated," Diane added. "Just because they don't wear a uniform doesn't mean they don't serve."
The first year that Support Military Spouses began its support mission, it gave out 35 boxes to spouses at Seymour Johnson Air Force Base.
This year, the organization created 12,000 boxes to give out to spouses at Fort Bragg, Camp Lejeune and Seymour Johnson.
Support Military Spouses plans on increasing that number next year and start delivering boxes to bases in Virginia and South Carolina.
Eventually, Rumley's goal is to give a box to every military spouse in the nation.
"We felt like this is what God wanted us to do," Steve said.
The organization handed out 500 boxes Friday alone.
Nicole Rollins grabbed one of them while taking care of her 2-year-old son, Braden, who was chomping on apple slices.
She had heard about the event through email and Facebook.
"I think it's great," she said. "They're supporting not only the military, but the spouses holding them down."
Beside more typical items of comfort, each care package also came with a "caring card" -- one of the 5,861 creations of schoolchildren throughout Wayne, Greene, Pitt and Lenoir counties.
Several Wayne County schools -- Rosewood Elementary, North Drive Elementary, Carver Heights Elementary, School Street Elementary, Spring Creek Elementary, Northeast Elementary and Rosewood High -- participated in the effort.
Students were given an incentive to create the cards by Dixon Food Groups, a McDonald's franchisee. For creating a card, each student received a coupon for free apple slices or an ice cream cone.
The North Carolina Community Federal Credit Union also served as a sponsor for the event.
"We are proud and honored to be able to host the event," Brittany Acree, the business's marketing director, said. "When we were asked to host the event, we have so many military members as customers that we were thrilled to help out."
The credit union also supports Support Military Spouses financially and holds drives in order to collect items for the organization.
Saskia Siler, the wife of Air Force Tech Sgt. Jason Siler definitely appreciated the box that she received.
"We're always in the background," she said. "We free up our spouses so they can focus on the mission. We're forgotten, but we serve too."
She wasn't entirely sure what was in her shoe box, as it was the first time receiving one, but she was looking forward to opening it up at home.
"It's going to be a surprise. We'll take a look and see what the kids allow me to do," she said.
Meanwhile, her 5-year-old son, Logan, was already trying to take a peek.
Other Local News