Quake doesn't stop local marchers
By Kenneth Fine
Published in News on August 24, 2011 1:46 PM
Full Size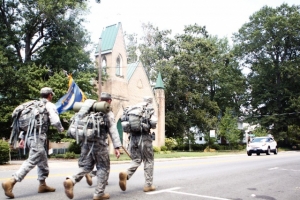 News-Argus/KENNETH FINE
Members of the 4th Fighter Wing Security Forces Squadron march past a church in Virginia. Minutes later, the earthquake shook the region.
VIRGINIA -- They were no more than a mile beyond Chatham, Va., when the buildings tucked inside the historic downtown started shaking.
But members of the 4th Fighter Wing Security Forces Squadron hardly noticed the 5.8 earthquake that moved the ground beneath their feet Tuesday.
They were, quite simply, in a zone.
Day Three of Seymour Johnson Air Force Base's leg of the cross country Ruck March to Remember could have been defined by adversity.
But what unfolded along the hills of Virginia, instead, amazed even the toughest among them.
By sunset, the group had marched some 45 miles -- a feat, given the circumstances, that Tech. Sgt. Kenneth Broughman characterized as "unbelievable."
"If you guys don't go home with your chests poked out a little bit and your chin high, you're wrong. Forty-five miles in one day ... is incredible -- especially with the hills we went through. You guys killed it today."
Scott Hellinger, though, didn't seem all that surprised.
What he and his comrades accomplished was nothing, he said, compared to what Security Forces airmen and other service members are currently going through in Afghanistan and beyond.
So even though the technical sergeant was among those celebrating a successful Day Three, he maintained the perspective each who volunteered to participate in the march has carried with them since they left a fire department just south of Greensboro more than 72 hours ago.
"We didn't just come out here for ourselves," Hellinger said. "If you're here, you've definitely got a belief in something greater than yourself.
It's something that comes from within."
*
Today marks the final full day of the 4th SFS's leg of a march that began in San Antonio, Texas, July 12.
But when the airmen pass the guidon to their comrades stationed at Langley Air Force Base Thursday at noon, they will never really leave the road.
In their minds, the journey won't be complete until that flag each has grasped along some stretch of road arrives at ground zero.
Only then, they said, will the blisters, cuts, swollen ankles and aching muscles seem worth it.
So before they called it a night Tuesday, Broughman brought his fellow airmen in close and did something out of character.
"I don't usually do this ... but bring it in," he said.
And when the men extended their hands into the middle of the circle they had just created, he reminded them that there is no giving up until they fulfill their mission.
"All in on three," Broughman said, before, in one voice, his comrades replied.
"One. Two. Three," they screamed. "All in."