Remembering 9/11, one step at a time
By Kenneth Fine
Published in News on August 22, 2011 1:46 PM
Full Size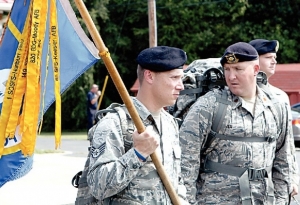 News-Argus/TY JOHNSON
Shortly after taking the guidon from airmen stationed at Pope Field, Staff Sgt. Ben Seekell leads members of the 4th Fighter Wing Security Forces Squadron as they begin their first day of a four-day journey.
Full Size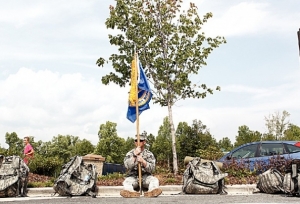 A member of the 4th Fighter Wing Security Forces Squadron holds the guidon while his comrades take a break.
Full Size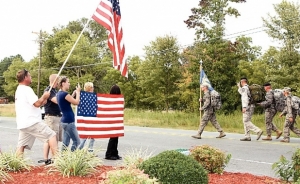 News-Argus/KENNETH FINE
Members of the 4th Fighter Wing Security Forces Squadron finish Day One of their four-day leg of a cross-country journey designed to honor the sacrifices made by service members since 9/11.
GREENSBORO -- Denise Jones tried to hold back her emotions when a group of airmen came into view.
But as the formation made its way down her street and past her home, tears started falling.
"Every time I see service guys, I cry," she said. "I just can't help it. We take our freedom for granted."
Moments later, the airmen stopped marching -- marking the end of an afternoon that had seen them cover some 23 miles.
But for those who participated in Seymour Johnson Air Force Base's first day of a 148-mile leg of the Ruck March to Remember -- an event created by their comrades to commemorate the 10th anniversary of 9/11 -- the eight-hour journey that unfolded Sunday was about far more than boots on pavement.
*
At just after noon, 4th Fighter Wing Security Forces Commander Maj. Jim Alves pulled his airmen in close.
He knew that personnel from Pope Field would soon relinquish to them the guidon that had been on the road since July 12.
"We're all going to be hurting," he said. "But you know what, if you need motivation, look right there."
He turned and pointed to one of the men the march was designed to honor -- a "wounded warrior" who, just more than three months after losing his foot during an Improvised Explosive Device blast in Afghanistan, stood poised to take the guidon and lead his comrades away from the Level Cross Volunteer Fire Station.
Staff Sgt. Ben Seekell, Alves said, should give them all the strength they would need to endure the distance and the heat on the horizon.
"If you had asked me three months ago if he would be out here ... I would have told you no way," he said. "I mean, just over three months ago, this guy lost his leg in Afghanistan, and here he is. It motivates you. It shows you that all the little scrapes and things we've got going on, they're nothing."
Those who sent the airmen off were moved -- some, wiping tears from their eyes as Seekell, on a prosthetic leg, stepped out in front of the formation.
*
When Barbara Cross saw a group of men and women wearing uniforms step off the road to catch some shade under the Polecat Creek General Store canopy, she felt compelled to pull over.
And after she approached one of them with a hand extended and asked just what they were marching for, the airman's response gave her "cold chills."
"This is the most amazing thing I've ever seen," she said. "God bless all of you. Thank you for protecting our country."
But Ms. Cross was not the only Greensboro resident taken aback by the airmen's mission.
As the formation entered downtown, some along the sidewalks cheered while others, from their balconies, saluted.
Drivers honked their horns and employees walked out of their businesses to applaud and say, "thanks."
And when the airmen, more than eight hours after their wounded comrade took the guidon from their counterparts stationed at Pope Field, reached a Shell station located just beyond Ms. Jones -- and called it a day -- dozens were waiting.
Clay Collins had to put his American flag down so he could shake hands with men and women he considers heroes.
And the 7-year-old jumped at the chance to have his picture taken alongside them.
Finn Hughes characterized the scene as "cool," even though the 5-year-old is far too young to understand all the sacrifices that have been made since 9/11.
Alves said seeing the crowd filled him with adrenaline.
"All of a sudden, the feet weren't hurting anymore," he said. "People appreciate us. It's good to see that."
And Tech. Sgt. Don Jones, who was stationed at Langley Air Force Base, Va., the day the attacks unfolded, said it was humbling that so many were helping him honor the wounded warriors he was marching for.
"It's like that big parade you never thought you would get, you know?" he said. "It makes you feel refreshed."
*
The airmen left that gas station this morning just after sunrise and will continue to march -- stopping only to sleep -- until they relinquish the guidon Thursday at noon.
For more stories from the road, follow the News-Argus in print and online.