Airmen take last few steps in Ruck March to Remember
By Kenneth Fine
Published in News on August 25, 2011 1:46 PM
Full Size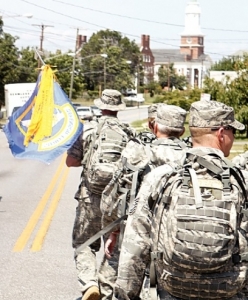 News-Argus/TY JOHNSON
Members of the 4th Fighter Wing Security Forces Squadron march into Lynchburg, Va., Wednesday. The marchers carried the guidon 40 miles into Virginia during their last day of marching and will hand it off today at noon in Amherst, Va.
Full Size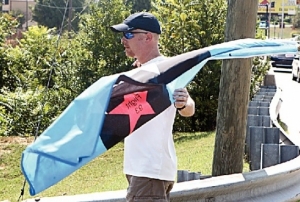 Pete Page, a resident of Lynchburg, Va., joined the march as it passed through the city, carrying a 9/11 remembrance flag. Page stayed with the airmen as they headed toward the James River before shaking hands with them, thanking them for their service. At left, the Ruck March's Facebook page.
VIRGINIA -- He wasn't wearing an Air Force uniform.
There was no 35-pound ruck sack strapped to his shoulders.
But when Pete Page began marching alongside members of the 4th Fighter Wing Security Forces Squadron Wednesday afternoon, passers-by took notice.
A new flag -- one designed to ensure 9/11 would never be forgotten -- had entered the fray.
Some, like Page, have made their presence -- and their support for the airmen's cause -- felt by coming face to face with those set to pass the guidon today at noon throughout a journey that began Sunday.
But others only reflected on just what the Ruck March to Remember means to them long after the guidon passed them by.
Tonya Brown had tears in her eyes when she found out that the group that passed her Lynchburg home was on a quest to ensure those who died on 9/11 -- and those who have sacrificed in the decade since the attacks -- were never forgotten.
"That's powerful. Wow," she said. "I think sometimes we do forget."
She leaned over and picked up her 3-year-old daughter, Gem.
"Did you hear that baby girl?" she said, wiping a tear from her eye.
"Those men are marching for our country -- for our heroes."
Roberta Zambo was on her way back from vacation when she saw, out her car window, police escorting a group of men and women in uniform on the other side of the road.
So she took to the Internet -- hoping to gain an understanding of just what motivated the march.
And when she discovered the "Security Forces 9/11 Ruck March to Remember" Facebook page, she was moved.
"I had the honor of seeing you pass on Bus. 29 North! God Bless every one of you involved," she then posted. "You do America proud."
But Ms. Zambo has not been the only one compelled to share her story on the social networking site.
Garnet Vicars posted words of encouragement shortly after the airmen entered Virginia.
"May God continue to bless our country and the men and women who serve!" she wrote.
And Rebecca Davis wished them safe travels after posting "You are our heroes!"
Mary Melton, another who has passed the guidon since members of the 4th SFS began their 148-mile of the cross country mission, called the experience of witnessing the effort an honor.
"I should say, so honored to be an observer of your journey," she wrote.
And then there was Diana Lamola, who vowed to be among those waiting at ground zero to greet the guidon long after the team from Seymour Johnson Air Force Base relinquishes it this afternoon.
"9/11, a day I will never forget. Thank you to all our military," she posted. "God Bless you and God Bless America! I'll see you at ground zero!"