Kelly to leave April 1
By Kenneth Fine
Published in News on March 7, 2010 1:50 AM
Full Size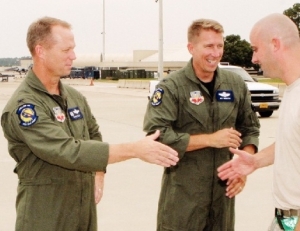 News-Argus file photo
4th Fighter Wing Commander Col. Mark Kelly, left, and Vice Commander Col. Patrick Doherty wish a member of the 335th Chiefs well before his unit deployed to Afghanistan late last year. On April 1 Kelly will step down as wing commander and Doherty will take over.
In just a few weeks, the 4th Fighter Wing will have a new leader.
Wing Commander Col. Mark Kelly confirmed Saturday that he will relinquish his post during a ceremony on Seymour Johnson Air Force Base April 1 -- and that his current Vice Commander Col. Patrick Doherty will take the reins.
Kelly took command of the 4th in September 2008, after being called on by Gen. Gary North to lead the wing he once trained as a member of.
At the time, Kelly, a seasoned F-15E Strike Eagle aviator, was in Afghanistan taking air power to enemy forces on the ground and providing overwatch to Coalition troops. So during his first address to the airmen under his command, he told them that his mind was -- and would remain -- focused on the Strike Eagle's vital role in that fight.
"Every single day, every single person (here) plays a part ... in the force we push 7,200 miles east," he said then. "The good guys over there ... they hail from the highest levels of our nation. ... They are America's truest national treasure, and they deserve our support."
And during his term as commander, he made sure those airmen -- and aircraft -- delivered.
Aviators, maintenance crews and support staff from the 335th Chiefs and 336th Rocketeers completed four-month tours at Bagram Airfield on Kelly's watch. And members of the wing's Security Forces detail and other squadrons also deployed during that time.
But ensuring air power was successfully delivered in theater was only part of Kelly's duty.
He also welcomed Vice President Joe Biden and Gov. Beverly Perdue to Seymour Johnson, and made countless appearances across Wayne County and the state on behalf of his airmen.
*
Talking Saturday about his upcoming assignment in Hawaii and the man who will take his place here in Goldsboro, Kelly seemed confident about both moves.
"We're excited," the colonel said with a smile. "We're really looking forward to it."
And Doherty's resume is much like his predecessor's.
He, too, was a member of the 4th as a young officer -- from April 1997 to December 1998 he was a member of the 334th Eagles, a squadron he would later command, and was also once a member of both the 335th and 336th before coming back to Seymour Johnson in July to serve as vice commander.
And Doherty, like Kelly, is a decorated command pilot -- he has been awarded, among other things, a Bronze Star and Distinguished Flying Cross with "V" Device -- with well more than 3,000 flying hours to his credit.
For more on the change of command, including detailed coverage of the event, a farewell interview with Kelly and an in-depth introduction to Doherty, follow the News-Argus.