Mission to Haiti
By Laura Collins
Published in News on March 7, 2010 1:50 AM
Full Size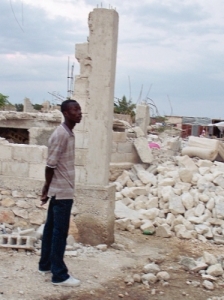 Submitted photo
A Haitian man looks at the remains of his home where his wife died during January's devastating earthquake.
Full Size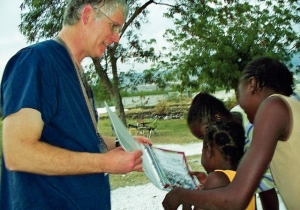 Submitted photo
Dr. Howard Newell, who specializes in internal medicine and recently spent a week in Haiti, shows pictures from North Carolina to a group of students.
When Dr. Howard Newell came across a 13-year-old girl with an infected foot injury, he knew he had to act swiftly.
"If we hadn't seen her, she might have died," he said. "The infection had already spread to the bone."
But luckily for that little girl, Newell made sure she got to one of the mission hospitals in Haiti where her foot was later amputated -- and her life saved.
In less than seven days, Newell, alongside 33 other people from eastern North Carolina, treated 3,000 patients in a country still trying to recover from the January earthquake that left much of its capital, Port-au-Prince, destroyed.
The team -- doctors, pharmacists, nurses, physicians assistants and other volunteers -- left for Haiti Feb. 20, and stayed in a compound that was really merely a collection of cots set up in an abandoned building.
Newell, who specializes in internal medicine, saw people at the compound, many of which were suffering because they hadn't received their medication since January, including people with diabetes. He also applied numerous splints and casts and treated infectious diseases, which had become common in the area because of the close living quarters.
"We saw some patients that were having problems because of sanitation," he said. "Right after it happened, the water wasn't clean but the people had to drink it anyway, which lead to stomach issues."
Newell said they also saw several patients with acute malaria, a first for him, including one woman who came in with a 104-degree temperature.
"It was miraculous," he said. "The next day she came back and she was walking around, smiling and laughing."
But the joy that came with helping those who had fallen on hard times was only part of the experience.
Other things that came with his stint in Haiti were far less glorious.
Like living in the area, something Newell said took some getting used to.
And then there was the tremor that lifted the doctor's bed off the ground during his second night in the compound.
"It was scary. It let us know a little about how everyone there felt," he said. "There were kids outside that started crying and some parents too."
Most of the people in Port-au-Prince were sleeping outside, not only because many of their homes were ruined, but because they were afraid to sleep inside, for fear that their roof may collapse.
"One family slept in front of their metal gate because it was the only thing that stayed standing during the earthquake. They felt safe sleeping in front of it outside every night," he said.
Newell remembers one man who shared his story and showed Newell the remains of his family's home. On the night of the earthquake, he, his wife and his children were sitting in their home when it happened, the roof collapsed above them and killed only his wife. The man returns every day to what used to be his home, but won't go in.
Another woman told Newell she was working on the fourth floor a building. When the earthquake happened, each floor of the building collapsed down on top of the one below it. She managed to walk away from the rubble, but everyone on the floors beneath her died. Those two and many others are working to understand why they were spared, Newell said.
"Just about everyone we saw had some post traumatic stress," he said. "There were people that felt guilty that they lived and their loved ones didn't."
In addition to seeing people at the compound, the group spent some of their time in St. Mark, a mountain community.
"We saw hundreds of people there who had not seen a doctor in years," he said.
The group also went to a tent city and treated hundreds of people there as well. They saw one woman who had a baby the previous day, but didn't have a way to cut the umbilical cord, which was still attached to the baby and now infected. Newell also taught another woman, who was caring for an abandoned baby, how to feed it using a syringe, since no other utensils were available.
A week after he arrived, Newell and the others prepared to return to the United States. Newell said the experience has forever changed his life and didn't hesitate before saying he would without a doubt do it again.
"What really got to me was how much they appreciated that we were there," he said, and recalls one man who left them speechless. "As we were leaving he said, 'I won't see you again in this life, but I'll see you in heaven.'"
Other Local News