Saturday telethon to save the animals
By Staff Reports
Published in News on March 7, 2010 1:50 AM
Full Size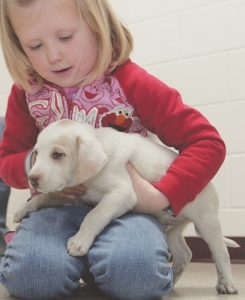 News-Argus/BOBBY WILLIAMS
Cortney Chase, 4, of the Mar-Mac community picked her new puppy, Spot, Saturday from the Wayne County animal shelter.
The Humane Society will host its third annual Save the Animals telethon Saturday from 6 to 9 p.m. on PACC-10 TV.
The line-up will feature animals up for adoption, as well as some success stories. The three-hour event will highlight local organizations that are making a difference in the lives of animals, tips on taking care of companion animal and legal issues affecting animals in North Carolina, society officials said.
"Our goal is to be able to find more rescues that can assist with placement of our incoming animals," said Nichole McCormick, who works with the volunteer and foster program at the Adoption and Education Center. "Because there is sometimes a delay in getting them to the rescues, we are in need of foster homes for as little as a few days or perhaps several weeks."
Foster families need supplies for the animals, so donations will help this program.
Representatives from the Humane Society will be manning the phones to take pledges -- and the names of those who contribute -- either that night or in advance -- will be read on air the night of the telethon.
Wayne County Humane Society officials said the public's help in saving the lives of dogs and cats in the county. It is because of that help that unwanted dogs and cats are now being brought to a better facility where they have a better chance of being adopted, the officials said.
However, the work is far from being over, the official said. Each year thousands of animals end up at the Wayne County Adoption and Education Center and many of them are not adopted.
With the public's help and donations the rescue agencies, foster groups and others can continue to help get these animals placed in loving homes, the officials said.
For more information, call 919-736-7387 or mail donations to P.O. Box 821, Goldsboro, N.C. 27533.
Other Local News