Sykes-Wertman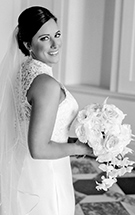 Stephanie Lauren Sykes of Greenville and Christopher Earnest Wertman of Pine Knoll Shores exchanged vows in a double-ring ceremony May 5, 2018, at half past two at First United Methodist Church, with Dr. Nate Leonard and the Rev. Manley Rose officiating.
The bride is the daughter of James Marion and Jennifer Cooke Sykes of Mount Olive and the granddaughter of Dorothy Draughon Sykes and the late Charles O'Neal Sykes of Mount Olive, Dorothy Warrick Cooke of Goldsboro and the late Harry Cassious Cooke Jr. of Goldsboro.
She graduated from Wayne Country Day School and East Carolina University.
She is employed as a medical device sales representative at Medical Finance Resources.
The groom is the son of Dr. Gary Van of Blairs Mills, Pa., and Lynn Marie Wertman of Blairs Mills, Pa., and the grandson of Audrey Wertman and the late Van Dorn Wertman of Muncy, Pa., and the late Earnest C. and Barbara Louise Schultz of Hughesville, Pa.
He graduated from Southern Huntingdon County High School and Penn State University.
He is employed as a medical device sales representative at SouthTech Orthopedics, Arthrex Inc.
The bride was escorted by her father and given in marriage by her parents.
She wore a a statuesque silk Mikado sheath with a whisper of Alencon lace accents.
A petite flair along the skirt showcased a trailed lace hem.
The custom made halter style bolero made of Alencon lace featured a funnel neck with buttons down the back.
The bride carried a handtied cascading bouquet with white garden roses, white peonies, phalaenopsis orchids, blush peonies and white ranunculus.
Hannah Westbrook was maid of honor.
Bridesmaids were Hailey Best, Jessica Best, Diandra Buckheit, Ashley Cooke, Meghan Fountain, Heather Harrelson, Caroline Rhodes, Savannah Smith and Kelsea Walters.
Dr. Gary Wertman II served as best man.
Groomsmen were Will Cooke, Scott Everhart, John Harrelson, Dustin Myers, Fred Schnarrs, Josh Stahl, Christopher Sykes and Lee Sykes.
Chandler Bordeaux was the junior bridesmaid.
Charlotte Sykes was flower girl.
Gavin Wertman was ringbearer.
Shelly Bordeaux directed the wedding. Jordan Jackson and Jenna Stahl distributed programs.
Hailey Best was vocalist.
Diane Hawknins was organist.
Trumpeter was Ralph Wade and violinist was Diane Daniels.
A reception was held in the atrium at First United Methodist Church.
The couple took a wedding trip to Cap Cana, Dominica Republic.
A rehearsal dinner was held at The Dunes Club Bistro, Atlantic Beach.
Events held before the wedding included a tailgate shower at the farm of Mr. and Mrs. Landon Bordeaux of Elizabethtown hosted by friends and family; a monogram shower at Wakefield Plantation Club House of Raleigh hosted by friends and family; a bridal luncheon at Coral Bay Club in Atlantic Beach hosted by friends and family; a trip to Miami, Fla., hosted by the bridesmaids; a trip to Nashville, Tenn., hosted by the groomsmen.
A dance celebrating the marriage was held at the Dunes Club, Atlantic Beach.
By admin
Published in Weddings on May 13, 2018 2:58 PM