Heroin crisis -- Addiction: A mother's loss
By Melinda Harrell
Published in News on September 18, 2016 12:19 AM
Full Size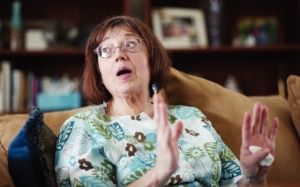 News-Argus/CASEY MOZINGO
Carol Bowles speaks about the overdose death of her son, Charlie Bowles, at home in Pikeville. Ms. Bowles says her son desperately tried to recover from heroin addiction, but finding suitable treatment for him was a struggle. Charlie died March 2 of this year. He was 27 years old.
Full Size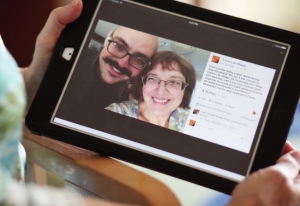 News-Argus/CASEY MOZINGO
Ms. Bowles looks at a photo of her and her son posted on the Rehab to Recovery Network NC Facebook page. She began an effort to start a long-term recovery facility locally, Rehab to Recovery Villages, which has its own Facebook and Twitter, @rehab2recoveryNC.
The ashes of Charlie Bowles sit on his mother's coffee table.
Carol Bowles keeps them there, it's where she feels close to him, and in her grief that is what brings her some measure of comfort.
On a Wednesday afternoon in early March, Charlie injected a lethal dose of heroin.
But before that day, his deadly tango with heroin had been gradually killing his spirit, Ms. Bowles said.
For Charlie, everyday had been a battle in a war he ultimately could not win.
"He had wake-up call after wake-up call," his mother said.
"It wasn't that he didn't know in his heart, it was that heroin was stronger than he was, and he was a strong man. I did not, even watching it, I didn't know how strong, until he was actually dead. Because I knew that he was fighting every day."
Charlie's fight with heroin began nearly three years ago while he was working in a restaurant in Pittsburgh, Pa., but his brushes with drug abuse began long before then, said Ms. Bowles.
"But Charlie had been a drug user since he was 14," she said.
"He told me he thought marijuana was the stuff of life. I mean, he had been a user for a long time in one form or another. When he was here -- he lived here from 2008 to 2010 -- and he started using cocaine toward the end of that and his behavior had become erratic, so I thought he was bipolar. It turns out, I believe that he was not bipolar, but he was so erratic, which is part of the drug use thing."
Charlie left North Carolina for Pennsylvania, and about a year after arriving, he tried heroin.
As he was working on a grill at a restaurant, a co-worker who had been snorting heroin offered Charlie a hit.
And he accepted.
"Charlie was an iconoclast," Ms. Bowles said.
"It wasn't that he didn't like to fit in, he just didn't fit in. You know, he went to WCC (Wayne Community College), and he was teaching the students how to study because they didn't know. He was a little too smart, a little too rebellious, a little too stubborn. He had a troubled youth. No trouble with the law or anything like that. He pretty much listened to peers and not adults. The pressure got to him, he started using heroin."
That decision would change everything for Charlie, his once vibrant personality would crumble into a shadow of what it once was, and his duplicitous behavior would wear away at his spirit, Ms. Bowles said.
"Because he had to be two-faced, it brought his spirit down," she said.
"Charlie was vibrant. He was a vibrant person, so when he was himself he was a charmer, he was intelligent, everybody loved Charlie. That is just the way it was. He had dear friends that he has had since high school, even though he has moved all over the place his friends, they are still his friends."
JUST A BOY
Before addiction dug its claws into Charlie, he was an obstinate, brilliant boy living in Virginia.
He was born Oct. 1, 1988.
"It was strange because he was born at 3 p.m., which was a shift change," Ms. Bowles said with a smile, remembering the birth of her son.
"So here they are delivering, and there was one set of hands and then there are a different set of hands. He was very stubborn from the very beginning."
At 7 months old, Ms. Bowles said, Charlie just stood up in his crib one day and screamed, and no matter what she did she could not get him to stop.
"I had been in therapy, and the therapist said 'Put him in his room, where he is safe, make sure he is fed and changed, take care of his needs and close the door,'" she said.
"Well, I did, and the neighbors called the police because they thought something dire had happened."
Ms. Bowles said that she believed that Charlie had genetic mental issues, which manifested themselves when he was young.
"I believe it was a genetic issue," she said.
"Because, on one hand, he was brilliant, but on the other hand, he was uncontrollable in many ways. He and I found a way to relate. Spankings didn't work on that boy."
In 1999, Ms. Bowles left her husband and moved to Georgia. It was too expensive for her to live in Virginia alone, and the University of Georgia offered her a chance to study landscape architecture.
"It was way too expensive to live there, and the children didn't want to leave," she said.
Ms. Bowles said Charlie was the youngest of her children, and they were leaving for college one by one and she had left, which inspired a feeling of abandonment within her son.
Charlie had dropped out of high school after failing his freshman year.
"Charlie, as brilliant as he was, failed ninth grade and dropped out," she said.
"He didn't go to school. He didn't turn in his assignments."
Charlie had been accepted into a gifted program for the arts "but Charlie wouldn't even do it," she said.
"He was depressed. He was beyond depressed. He had clinical depression. I went up to see him for his birthday in October that year, and I asked him if he did his homework, and he said 'You're on my back already.' He opened the door and was trying to get out of the moving car. He and life had this adversary relationship."
BACK IN
NORTH CAROLINA
His addiction had grown into something that became unmanageable in Pittsburgh, Pa.
He began shooting heroin in the spring after a breakup with his girlfriend.
Charlie returned to North Carolina in August of 2015 to live in Pikeville with his mother.
"He went through a very bad detox," Ms. Bowles said about his return.
"I think he told me he was using 5 grams a day up there. I don't know what that is in relation to things, but he said it was $80 to $100 a day. Which gets pretty expensive after awhile. Who can sustain that? He laid right here on this sofa and detoxed."
Ms. Bowles bought books to help addicts recover and vitamin supplements to begin Charlie on a recovery regimen that would heal the body and then the spirit.
"You don't choose your drug of choice, your drug of choice chooses you. And Charlie's behavior over the long term was true. He was anxious, so he smoked dope. He didn't fit in his own skin, but he was so empathetic and kind. Heroin is 'I don't have to feel this right now. I don't have to feel anything but good right now.' So, that's the endorphins. He was in physical pain."
Ms. Bowles said from September to November of 2015 Charlie was clean, but he had become restless and lonely.
"He spent a lot of time alone, and he was a social person, so being alone for Charlie was tough," she said.
"That is why he wanted to go back to work, but when he went back to work -- Charlie, he had told me, kitchens were rife with drugs."
Charlie landed a job a Ed's Southern Foods and Spirits on Center Street.
Ms. Bowles said he was a skilled cook and enjoyed working in restaurants, but it was not 48 hours before Charlie was able to make a drug connect, and from there, his addiction took hold once again.
On Jan. 14, Charlie crashed into a tree on Center Street after injecting heroin and overdosing.
He lost control of his car with his foot still on the gas.
Goldsboro police officer Dakota Toms smashed the windshield of the car and shut off the engine.
Charlie wrote a letter to Toms in detox, after the accident, thanking him for saving his life and asserting that he would not waste this chance he was given, writing his signature numerous times.
"He wrote it and asked me to read it," Ms. Bowles said emotionally.
"It said 'You gave me another opportunity at life, and I am not going to waste it. I'm going to honor what you gave to me by living a good life and being a good man.' I guess in his heart he struggled with who that man was when he went to put his signature. That breaks my heart. That really breaks my heart because that is Charlie. That is Charlie, he wanted to get it just right. I want to be just right. I want to be so good. That is the thing that drove him in his career. He wanted to be the best and he was, but he didn't feel it."
Toms did receive the letter from Charlie.
"When I got the letter, I thought about the incident that took place," Toms said.
"You can tell he was sincere."
Toms said he did not stay in contact with Charlie after he received the letter, but once he found out about his death it was the sincere tone of the letter that he recalled immediately.
"It was the first thing I thought of, that letter he sent me," Toms said.
"He seemed like he was a good guy and wanted to do well. It is unfortunate that we lost someone else in the community to narcotics. My thoughts and prayers are with the family. I don't think a lot of people understand the severity of (the addiction), and the people that are getting addicted. Charles was a relatively young guy. It is unfortunate. It is sad."
When Charlie was released from detox, he and his mother sought more intensive help and therapy for him to heal and recover.
"And we tried to get him into rehab. We tried, we called every place. Before we went to detox, we went to Waynesboro (Family Clinic), and we applied for something called Harvest House, which is something that is supposed to be run by Cromwell Health. We never heard a word, never got an answer on the phone. Walter B. Jones (Alcohol and Drug Abuse Treatment Center in Greenville) used to do a 28 day, especially for people who are shooting up, they don't do that anymore. They will do a detox, but you are on your own after that. They release you to intensive outpatient therapy. It's OK when you are stable, but it is not OK when any little breeze is going to push you over. That is what it was. He needed to be in a long-term residential facility."
Ms. Bowles looked everywhere for a place that would help Charlie become well quickly, but time was slipping by.
"After he had that accident he said, 'Mom, you can see, being alive just doesn't mean that much to me,'" she said.
"And I feel like that was a tussle for him. He wanted to be alive, but he didn't care if he was alive ... The idea of life, you got clean, but the thought of living life without heroin was not something he was going to be able to deal with. I wanted Charlie to live. I didn't want him to die. I did everything I knew how to do, between being a peer support specialist and having gone through counselor training and just being in the mental health community for a long time and living with my son and the various mental illnesses throughout my family. I have a rich history of this. But if someone doesn't want life, you can't make them want life. You can only provide an environment where they can catch a glimpse of what they want life to be."
DEATH DAY
On the day of Charlie's death, Ms. Bowles woke in the early morning hours.
"I woke up at 5 a.m. Wednesday the second, the day he died, and I started crying out to God so hard," she said.
"I said 'Have mercy on us, have mercy on us.' And I said 'Oh, no there is another mother,' and I was crying for her because it is not just the user, it is the family, everybody they know. People who care about them suffer so badly, and you don't know what to do."
Ms. Bowles eventually returned to sleep after crying to be awakened by Charlie.
"He had a habit of sneaking into my room, and I don't know if he was sneaking into my room to find a key, but he did go downtown that day," she said.
"He was in there about 8:30, but I was sick, and I just laid there. We were talking for a little while, and I got up again, and I was going to make some coffee. I told him I had a migraine. And he said, 'You go back to bed Mama and get some good sleep.' I loved when he called me Mama."
Between noon and 1 p.m. Charlie injected his final dose of heroin. Ms. Bowles called 911, and when first responders arrived they surrounded the body of Charlie and tried to revive him, Ms. Bowles said.
For 35 minutes in his room, they tried, but nothing brought him back.
COPING
She often thinks about the times she spent with him, and she said the last seven months he was home were "great times."
She honors him and his fight with her ambitions to start her own long-term facility for struggling addicts, called Rehab to Recovery Villages.
She said she has spoken with state legislators about the acquisition of funding for a facility, and she said she will continue to work to get a long-term treatment program in the area.
She said it was a place Charlie had needed but was inaccessible.
Had adequate recovery and treatment facilities been available to her son, she believes he would be alive today.
In her grief, what gives her comfort is the knowledge that Charlie "received the Lord" in detox as well as a vision of Charlie that is happy and free.
"(In my vision), I could see him walking, and he said, 'Mom, no more shackles, no more chains, I am free. I'm so happy, and he did cartwheels,'" she said with a smile.
"His heart was so light, his mind was so free. He was so happy. He was doing what he wanted to do."
Looking back on her time with Charlie, she said that by the time he had returned to North Carolina, he had already reached a point where he could not find a way to recovery alone, no matter how he tried.
"I think he got to a point, he crossed a line, before he got here, before he came to North Carolina. He crossed the line and he was trying with all of his might. We both tried every day as hard as we could, both of us, whether it was using or he wasn't using, he was trying to get well. It didn't happen. I feel like saying to other parents, there is a slight possibility that your child will be alive, but there is a stronger possibility that your child will not be alive."