Missed Direction: Are gangs contributing?
By John Joyce
Published in News on August 31, 2013 10:46 PM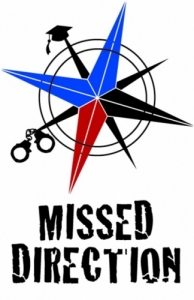 News-Argus/CASEY MOZINGO
Graphic by Casey Mozingo.
Keith Acree, N.C. Department of Public Safety communications officer for adult corrections, says there are validated and non-validated gang members in Wayne County.
"It's fair to say there are a very small number of folks on probation or parole that are definitely involved, and 20 or fewer suspected of involvement," he said.
No other law enforcement agency would go on record with hard numbers or statistical data, but the city and county's chief law enforcement officers say gangs are here in one form or another.
Members of the Wayne County Sheriff's Office said they put a dent in one of the major gangs, but that more members are still out there.
"We busted up a lot of the Crips and Folk guys, so they're hurting right now," said Sgt. Matt Miller, Aggressive Crime Enforcement Team member and local gang expert.
But there is still "a large movement, a cultural movement," that residents and law enforcement officials need to be aware of, he added.
"It's our time," Miller said. "This is taking off. It's actually here."
Goldsboro police officers said they know gangs are here but aren't sure who is affiliated with whom.
And with no defined gang unit, Chief Jeff Stewart said he and his officers do their best to track and monitor gang activity in the city.
"They're here. We are aware of it," he said. "We're on it."
Stewart said his department has identified at least three or four "sets," or localized branches, of one nationally recognized gang, the Bloods.
He said that G Shine and Nine Trey are names of gangs known to operate in the Slocumb Street area and the south side of the city, but would not provide the names of the other sets.
Stewart also said the Bloods' rival gang members, namely the Crips and Folk Nation, are here as well.
"I think you have groups of individuals who are affiliated. I don't know how organized they are, but you have the north part of town, the south part of town and then you have Day Circle," Stewart said. "That pretty much says it all."
Sheriff Carey Winders was more forward about the presence of gangs in the county limits.
And that includes a visit from the Pagans, an outlaw motorcycle gang, which held a rally in Goldsboro last year.
"Right there at the Econo Lodge," Winders said. "Didn't have any problems with them, but they were here."
Others gangs, though, are causing problems.
"Do we have gangs?" Winders said, jabbing a thumb at a YouTube video on his computer screen. "You tell me."
The city is sectioned up, he said, and turf is something gang members are willing to die over.
Bloods, he said, have carved out everything south of East Ash Street.
Crips operate to the north.
And Folk Nation, which aligned, at some point, with the Crips, also operates in the area.
Gangs, he said, absolutely have a presence in Goldsboro and Wayne.
Some of their members are in his jail.
"You have to separate them," Winders said. "You don't want to be throwing a guy from one group in with a bunch of guys from another group. It's just not going to come out good."
District Attorney Branny Vickory has been keeping an eye on gang activity in the area, too.
"They're here," he said. "We take interest in knowing who these folks are."
But Vickory believes the local presence of the Bloods and Crips is recent.
"It used to be a north and south side thing, not like now with a national affiliation," he said.
And, for the most part, the District Attorney's Office and law enforcement agencies tend to know who the players are, Vickory said.
Whether he sees them only a few times or if he sees them from their first time in juvenile court up through their sentencing, as adults, to lengthy prison terms, it all depends.
"They don't always start with petty crimes," Vickory said.
And every criminal doesn't begin his career as a violent offender, he said.
But one thing seems clear: The violence is beginning at an earlier age.
"There are so many guns now," Vickory said.
The district attorney said that if a crime is directly related to gang membership, it can be considered an aggravating or mitigating factor as far as sentencing, so his office spends a lot of time double-checking to positively identify defendants with supposed gang ties.
"An awful lot of time and money, public money, goes into investigating, prosecuting and then housing these gang members in prisons and state facilities," he said.
Other Local News