Missed Direction: Richard Taylor
By John Joyce
Published in News on September 3, 2013 1:46 PM
Full Size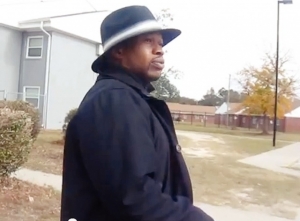 Screenshot from YouTube
Richard Taylor has written a fictionalized account of life on the streets and in the drug trade, "Brushes With Death: The Blood of Jesus." He did a promotional video to promote the book.
Full Size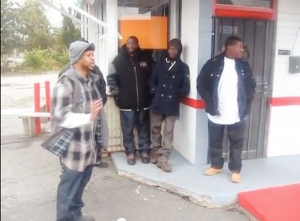 Screenshot from YouTube
Taylor, in this screenshot from a YouTube video he shot as a promotion for his book, interacts with teens from a neighborhood like the one he grew up in.
Richard Taylor knows firsthand the history of gangs, drugs and violence in the city.
He witnessed it all.
He sold the drugs and dodged the bullets before getting out -- not just out of "the game" but out of Goldsboro completely.
But the game caught back up to him -- and so did the bullets and, eventually, the law.
Taylor, now out of jail, out of the life and going to college out of state, comes back periodically to visit.
And what he sees reminds him of why he left.
*
Taylor, 35, is a Goldsboro native.
He is also a four-time felon who has since become a full-time college student, a published author and an advocate for his community.
"Most of the people involved (in gangs) here locally are from here. They know each other," Taylor said. "They all went to the same high school."
*
Taylor began dealing drugs in the mid-1990s.
He explained that back then, he and neighborhood friends were just following the crowd of older guys who began in the drug trade in the late 1980s and early '90s.
Taylor said that at that time, the gangs visible today were nothing more than neighborhood cliques.
"You had the K9 Posse, the Butt-Naked Crew, P.I.C. (Partners in Crime)," he said.
They operated where they lived, "Audubon, James and Pine, the west side, the north end," he said.
Groups of friends from different areas moved freely around the city. There would sometimes be scrapes with other groups of friends over girls and gossip, but never turf.
A changing of the guard came in 1996 when a friend of Taylor's killed a competing drug dealer and power shifted after that, he said.
After a clique from the government housing complex formerly known as Courtyard had a conflict with a west side crew, territories were carved out and enforced.
From that point on, the north and south ends of town, and the west side, started banding together against one another.
By 2000, the situation was in decline.
Taylor left the city in 2002 to escape the criminal life, but landed in jail in Virginia after slipping back into the drug trade.
He was shot while holding his 3-month-old daughter -- left wounded and bleeding in a hotel room where he had been holed up with drugs.
That's when he got out for good, he said.
*
Taylor has since written a book.
A fictionalized version of his exploits in the Goldsboro street life, the self-published novel titled "Brushes With Death: The Blood of Jesus," was printed in 2012 during the height of violence in what amounted to Goldsboro's deadliest year in decades.
"I was getting calls every other day saying 'So-and-so got shot,'" he said.
People he grew up with -- the few he still has contact with who haven't been killed, jailed or have otherwise fled the area -- have kept him in the loop.
"Following the arrest of a top-ranked Blood member, cats started scrambling to be the head guy," Taylor said.
He has been told by "people who know" of specific murders in the city linked to gang initiations, retaliations and to parties attended by "gangbangers" that got out of hand due to drugs and alcohol.
But during his time, men would simply smoke marijuana and drink, Taylor said.
"You know, that's all we did. Now you've got guys on that codeine; you got them on 'love boats' which is P.C.P. (marijuana smoked with P.C.P. mixed in or dipped in formaldehyde for the same effect); you got them on the mollys, ecstasy, all at one time," Taylor said. "You go to a liquor house -- a residence where alcohol is sold without a permit -- and, you know, nearly everybody has a gun. And with alcohol, the slightest little thing can erupt."
That is what he heard happened on Devereaux Street, where two men where killed outside an alleged liquor house in September 2012.
*
To promote his book, Taylor conducted a series of street interviews, recorded them and posted them to YouTube. The stories he tells in "Brushes with Death" are captured in firsthand accounts with a hand-held camera.
He says although he is finished with street life, the young people he talks to are not -- and are headed down the same, dangerous, path.
Other Local News