Mission accomplished
By Kenneth Fine
Published in News on September 11, 2011 12:58 AM
Full Size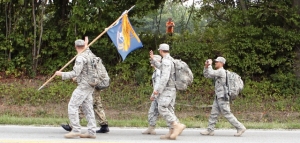 News-Argus/KENNETH FINE
Airmen in the march wave at a child as they continue along their 148-mile trek. Supporters of all ages came out of their homes to wave at, shake hands with and give words of encouragement to the airmen.
It could have been a simple march -- a group of service members carrying a flag to a destination located somewhere within the country they signed up to defend.
But when members of the Air Force's Security Forces community set forth on a cross-country journey on a hot July morning, several things, almost instantly, became clear.
And by the time a symbolic guidon -- a flag that traveled for nearly two months over thousands of miles -- arrived at ground zero this morning, the Ruck March to Remember had been transformed into something far more powerful than it was when it began -- a lasting tribute to those who lost their lives on Sept. 11, 2001 and in the wars the events that transpired that day prompted.
It had transcended any particular branch of service.
It was no longer even a military effort.
The march now belonged to a country scarred 10 years ago today -- to every person who watched the guidon pass them by; to everyone who heard a story about or saw a picture of a group of men and women in uniform trekking through their respective hometown.
*
When a Seymour Johnson Air Force Base technical sergeant created the effort, even he had no idea what it would become.
But when he and other members of the 4th Fighter Wing Security Forces Squadron relieved their comrades stationed at Pope Field -- and began their 148-mile leg of a journey designed to begin in Texas and end in New York City -- he saw firsthand what had been transpiring along roads across America.
Some stopped their cars and started clapping as the march passed them by.
Others rushed ahead of the pack and waited at gas stations to shake hands with those they characterized as "heroes."
"Nobody expected that. And to be welcomed everywhere, it was unbelievable. We were invited to dinner every night, to the point where we had to turn meals away," said Kenneth Broughman, who thought the march would simply be a way to honor the victims of 9/11 and the wars waged after the attacks. "But what happened out there, to me, it shows that people haven't forgotten. That's the one thing I took away from it the most. They haven't forgotten and they do appreciate what we do.
"They might not have the venue to voice it and this gave them that. It gave them a venue to show people that support. Just receiving all of that was pretty overwhelming."
The airman's commander, Maj. Jim Alves, agreed.
"When you walk through these town where people don't know we're coming -- when they stop and hand out food and wave the flag -- to see that support ... it's amazing," he said.
Other 4th SFS airmen went through similar emotions -- and came back to Goldsboro feeling more appreciated, as though the nation is really behind its fighting force and the cause its members took an oath to defend.
And when they returned home, they spent time reflecting on all they had accomplished by tightening their boots day after day.
"For me, it was a very humbling experience," said Tech. Sgt. David Leebert, one of a handful from Seymour Johnson who participated in each day of the base's five-day leg of the 2,812-mile journey. "By the time you get out there, you get all pumped up and the pain kind of goes away, but at the end, once all my adrenaline was done and we handed over the flag, the next couple of days were, wow."
His comrade, Tech. Sgt. Don Jones nodded his head.
"After we passed the flag and came back and healed up, I had never really sat back and watched all the videos -- the footage of 9/11 -- before. I didn't really like it," he said. "But after we got back, I started seeing documentaries ... and you sit there and think about what you just accomplished. You think about the feelings of pride and dedication and the meaning of that walk. You understand that you were doing it for a reason."
Other Local News