148-mile journey complete
By Kenneth Fine
Published in News on August 26, 2011 1:46 PM
Full Size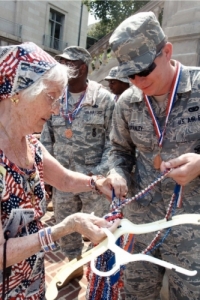 News-Argus/TY JOHNSON
Lynchburg, Va., resident Renee Rucker thanks Airman 1st Class Thomas Stanley for his service.
Full Size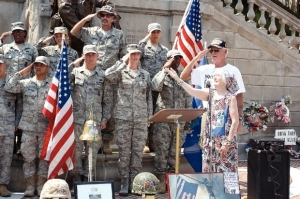 News-Argus/TY JOHNSON
Renee Rucker leads the Pledge of Allegiance as members of the 4th Fighter WIng Security Forces Squadron salute in front of Monument Terrace in downtown Lynchburg, Va. Veterans from Lynchburg have gathered at the memorial 506 weeks in a row since Sept. 11, 2001.
Full Size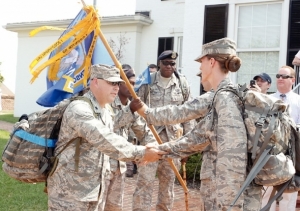 News-Argus/TY JOHNSON
1st Lt. Kimberly Guest shakes hands with a representative from Langley Air Force Base as the 4th Fighter Wing Security Forces Squadron pass the guidon over to the airmen in front of the Amherst County Courthouse in Amherst, Va. The guidon will continue its journey toward New York City and is scheduled to arrive at ground zero in time for the 10th anniversary of the Sept. 11, 2001, terrorist attacks.
LYNCHBURG, Va. -- Renee Rucker wiped tears from her eyes as a group of airmen saluted the American flag.
She turned away and fought back more when the national anthem played out over loud speakers -- when a Vietnam veteran rang a bell meant to honor the sacrifices made since 9/11.
"They are the reason I've been wearing the red, white and blue for 10 years now," Ms. Rucker said, choking up as she scanned the faces of the men and women standing at attention in front of Lynchburg's Monument Terrace. "I love them so much. I just don't have the words."
*
The guidon had already been passed to their comrades stationed at Langley Air Force Base.
Their leg of a cross country march -- their journey -- had, at last, come to an end.
But what happened Thursday afternoon during a ceremony that has been held weekly since the Twin Towers collapsed nearly a decade ago, served as a poignant reminder to members of the 4th Fighter Wing Security Forces Squadron of just why, since Sunday, they had traveled country roads from Level Cross, N.C., to Amherst, Va.
"We've been standing here for 506 weeks ... in support of the troops and 9/11," said Jerry Walker, a Vietnam veteran and former member of the Air Force Security Forces community. "So this march really ties things together."
And that statement was proof, 1st Lt. Kimberly Guest said, of what she has seen firsthand since her airmen left a North Carolina fire department.
The Ruck March to Remember, she said, was no longer about the men and women lost on 9/11 -- and those who have sacrificed in Iraq and Afghanistan since those towers fell.
Not entirely.
It had become a reminder, to business owners, schoolchildren, congregations and other passers-by that freedom comes at a heavy cost.
"We started out because we wanted to remember the 10 of our own ... that we have lost since 9/11. That's where we've latched onto it," she said. "But it really brings in people from all services, from all times, from all conflicts and unites us. ... It is quickly becoming something bigger than Security Forces and the Air Force."
*
Somewhere along a mountain road, the guidon carried from Sunday to Thursday by members of the unit that created the 2,182-mile tribute remains on the move -- and will until it reaches ground zero on the 10th anniversary of a day that rocked a nation and thrust its armed forces into war theaters across the world.
But for John Welsh, a 25-year-old who showed up at Monument Terrace to greet members of the 4th SFS, the ceremony that unfolded long after those Seymour Johnson Air Force Base defenders relinquished that flag will play out in his mind long after his fellow Americans pause to remember the deadliest attack on their nation's soil.
"This right here is something I'll never forget. I mean, this right here is what America is all about," he said. "I look at their faces and you can see how worn out they are, but then I think about what it was like when they were over in Afghanistan. They fight for me, and I'm speechless."
So when David Stokes, president of the Lynchburg chapter of the Vietnam Veterans of America, asked the uniform-clad airmen about their service, Welsh was among those moved to tears.
"How many of you all have been to Iraq and Afghanistan?" Stokes asked, before nearly each one raised his or her hand.
"Go Air Force," Welsh yelled, clapping along with the dozens of others who turned out for the ceremony. "We love you guys. Thanks for everything."