'Purple Heart Run' hosts special visitor
By Phyllis Moore
Published in News on July 2, 2017 1:45 AM
Full Size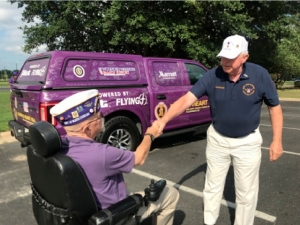 News-Argus/CASEY MOZINGO
Associated Press Barry Pierce, commander of the Fort Bragg chapter of the Purple Heart Foundation, shakes hands with Clayton Jones, director of the national foundation, Saturday as the Purple Heart truck arrives at Wayne Community College.
The front parking lot of the Wayne Community College campus, closed for the Independence Day holiday, was converted into a site for the 2017 "Purple Heart Run" on Saturday afternoon.
The event, sponsored by the Military Order of the Purple Heart and Wounded Warriors Family Support, featured a retrofitted 2017 Ford F-150 Raptor truck, adapted for a combat-wounded veteran.
The bright purple vehicle was scheduled to arrive on campus early Saturday afternoon but experienced a two-hour delay due to holiday traffic around the Washington, D.C. area, organizers said.
"That truck will make 40 stops between here and Dallas, Texas on Aug. 13 and we'll present that truck to a disabled veteran," said Sylvania Wilkerson, commander of the local group, Chapter 657.
Goldsboro was to be the first stop on the route.
Purpose of the Purple Heart Run was to bring recognition to the Military Order of the Purple Hearts and the family of Wounded Warriors, he said.
While here, a ceremony will be held on Monday morning at 9 a.m. The public is invited.
The truck will depart the area around noon, continuing its trek cris-crossing the country to promote mobility for combat-wounded veterans.
On Aug. 13, during the National Convention of Military Order of the Purple Heart, the keys to the vehicle will be presented to its new owner, selected from nominations made by each chapter, Wilkerson said.
That honor goes to Marine Sergeant Patrick Kennedy, a patriot of Chapter 460 in of Fayetteville, Arkansas. He was on his fourth deployment in Afghanistan when he lost both of his legs and sustained severe damage to his left arm after stepping on an improvised explosive device, or IED, on June 13, 2011.
The squad leader, on a routine clearance mission, and his team were informed by Afghan locals that a weapons cache was in a compound nearby, officials said. During a check of the area, Sgt. Kennedy was thrown into the air and into a nearby wall.
These days he is a motivational speaker, delivering the keynote address for the 2015 Annual Purple Heart Recognition Ceremony and assisting veterans in applying for the GI Bill and other educational benefits.
He is 12 hours away from finishing his bachelor's degree in criminal justice. He recently interrupted his studies after being chosen to participate in a 12-month criminal forensic computer analyst internship for The Human Exploitation Rescue Operative, or H.E.R.O. Child-Rescue Corps. Upon completion of the internship, he will return to the University of Arkansas to complete his degree.