Local dancer to go to Disney
By Phyllis Moore
Published in News on October 29, 2016 9:43 PM
Full Size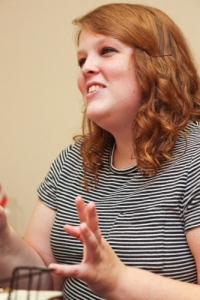 News-Argus/SETH COMBS
Jessie Stewart, a graduate of Charles B. Aycock High School and soon-to-be graduate of UNC-Greensboro, has been accepted in to the Disney College Program. She leaves for Florida in January to work and study in the five-month paid internship.
Jessie Stewart has done some fun things in her young life.
She took piano lessons for 10 years, dance for 12. She participated in StageStruck for eight years, her first show, "Peter Pan," was the year the Paramount Theatre was destroyed by fire.
She was a swimmer at Charles B. Aycock High School and made it to the state finals for golf her senior year, 2012.
She was also Little Miss Daffodil while a student at Fremont STARS Elementary School.
"She has loved to entertain since she could walk," says her mother, Shari Stewart. "If you give Jessie a chance to perform, she will take it."
So now, at 22, on the threshold of graduating from UNC-Greensboro with a bachelor's degree in vocal performance, what's next?
She's going to Disney World.
Not on vacation or as a reward for four years of hard work completing her studies.
She has been accepted into the Disney College Program, an opportunity to work at Disney World while networking with leaders, taking personal and career development classes and building skills in such areas as problem-solving, teamwork, guest service and communication.
"I found out about the Disney College Program when I was a freshman in college," Jessie said. "I wasn't ever able to work it in but I had a couple friends that decided to do it.
"They're at it right now, actually. The more they started talking about it, I thought, maybe I should do it, too."
The clock was ticking on Jessie's eligibility, as the program is only open to students currently enrolled in college or within six months after graduation.
The process consisted of an online application, a web-based interview and a phone interview, which fell on Aug. 23, her sister, Elizabeth's birthday.
It could take up until Nov. 18 to hear the outcome, she was told.
"I actually had to wait over a month, which was really hard," she said. "I had been checking my e-mail every single day, multiple times a day.
"I thought I'd have to wait until November to find out. I was feeling a little discouraged."
Then on Sept. 29, while taking a nap, an e-mail came in alerting her that she had been accepted into the program. She awoke to the congratulatory news.
"It was like a shock at first, and then I saw 'attractions' -- it's a really high end role. A lot of people get chosen to be in quick service, food and beverage," she said. "I just burst into tears."
She will likely be trained in how to operate one of the park's rides. But the program also offers classes in things like hospitality, management, even "Disney 101," she said.
It is a paid internship and she will live in Disney housing, she said.
"I'll live with probably five other roommates and our housing comes out of our paycheck, a little bit each week," she said.
She had seen other people posting their acceptances on Facebook as the announcements began, so planned her own reveal to her family, which also includes older brother, Kenan.
"I called my sister, she was headed to see my parents. I asked her to film their reaction," Jessie said. "I was like, just tell them to call me."
When the call came -- Jessie was also recording her side of the conversation -- she somberly told her mother, "You need to get dad. I need to tell you both something important."
When Shari and Hank Stewart got on the phone, they asked their daughter what was wrong.
"I need to tell you that I got into the Disney College Program," Jessie said. "And then my mom burst into tears."
On the video, her mom can be heard, relieved but admitting to a tinge of worry -- "I thought you were going to ask for bail money," she said afterward.
Miss Stewart leaves Jan. 23 for Florida and will be in the program until May 25, but can apply for an extension.
"It's an internship and I think for me to say that I worked at Disney World is a great resume-builder because right now I'm not really sure what I want to do. As much as I want to perform, I also want to eat," she said with a laugh. "I think being there will help me answer the question of what I want to do."
It could lead to a professional internship, which is only possible if she completes the prerequisite of the College Program.
"The professional internship, you're paid and it's a full-time job," she said. "It can turn into a full-time position."