Deadly Combination Part III -- The Survivors: To build anew - At the Potter's house
By Melinda Harrell
Published in News on December 10, 2017 3:05 AM
Full Size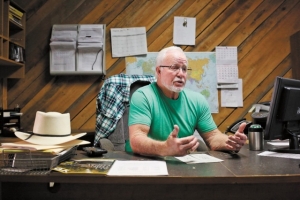 Pastor Larry Miller talks about his journey from addict to rehabilitator in his office at Potter's Wheel Ministries, a rehabilitation facility outside of Mount Olive.
Full Size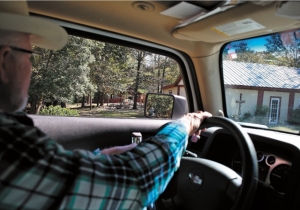 On the grounds of the Potter's Wheel Ministries, there is a family center where the men can spend time with their families during special visitation hours.
Full Size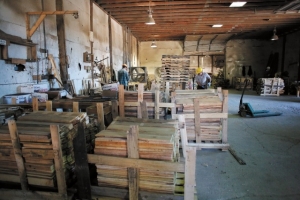 Several of the men enrolled in the Potter's Wheel Ministries rehabilitation program assemble wooden pallets that will be sold to help supplement the costs of the program.
Salvation came to Larry Miller in the form of a merciful judge.
He had spent part of his adult life and a large part of his teenage years leading the law on chases through the mucky swamps of Palm Beach County, Florida.
"I spent a lot of times in South Florida with them chasing me through them cane fields and down them dirt roads and back roads because I was usually into something," he said.
When he pulled out of his driveway, law enforcement would follow him, confident in the knowledge that if they followed him long enough on any given day, they would find something amiss.
Larry had always been enamored with the darker side of life growing up in Pahokee, Florida.
The town he was raised in is small -- even now the population is only hitting at about 6,000 -- with little opportunity there for children growing up.
"The best thing we are known for is putting out football players," he said with an affable laugh, throwing out the names of Anquan Boldin, wide-receiver for the 49ers, and Ricky Jackson, linebacker for the Saints and NFL Hall of Famer.
"If boys wanted to get out of the Glades -- it's a big farming community -- wonderful place to live, great place to be raised, but that is how you got to go to school, play sports. Usually that is what kept most of us out of trouble," he said.
His parents, Tommy and Wilma, were well thought of in the community, always trying to instill in Larry the value of Jesus and living well. But nothing that they said really resonated with him in his younger years.
Larry found living a "good life" boring, he said. Even as a child he always pulled for the villain in films and on TV. And so, as he found his life morphed into a cycle of drug abuse and criminal behavior, that intrigue kept him living it, as did the thought that, maybe, he wasn't equipped to be a good person.
"That was something I didn't figure I could do anyway," he said.
Larry would have never guessed, standing in front of a judge the day he was expecting to go to a state penitentiary, that even when he saw no good in himself, someone else did.
"The judge looked at me one day and he said, 'Boy, I think there is good in you in there somewhere,'" Larry said.
As he was standing there, with the next few bleak years laid out in front of him, he thought, "I hope so."
REDEMPTION AND MERCY
The judge sent Larry to a facility in Florida in an attempt to rehabilitate him.
"He gave me an opportunity to go to a facility instead of prison in a place down in Florida, and it changed my life," Larry said sitting in his office at the Potter's Wheel Ministries in Mount Olive, the Christian-based drug and alcohol regeneration program he founded in 1988.
Looking back on that decision today, Larry knows that is when the trajectory of his life changed. But at the time, he said, he went into Dunklin Memorial Camp ---- a Christian-based regeneration center in Okeechobee, Florida ---- looking to "beat the system."
"I didn't go there looking for Jesus. I went there to beat the system," he said. His was a mindset not unlike the men who arrive to the campus of the Potter's Wheel Ministries today.
"They are looking for a get-out-of-jail free card, and I understand that," Larry said.
"And at the same time, that is what it takes."
Men arrive to the facility with two choices, go to treatment or go to jail.
"That's good," he said.
"A guy doesn't walk down the road -- been in a life of addiction -- and say, 'I think I will give my heart to Jesus and go down there and be a client to pastor Larry, I think that is what I will do.' Nobody wants to come see me, they have to come see me."
When Larry arrived at Dunklin -- in the same position his clients find themselves in today -- he was in a 180-acre, mosquito-infested swamp "with a school bus and an army pop tent with a bunch of winos" holding his get-out-of-jail free card and an intention to circumvent the judicial system.
But Larry's base intentions were forever changed when, in 1962, he met Mickey Evans, who founded the facility designed to treat drug addicts and alcoholics through spiritual healing.
Mickey took Larry "under his wing," and became another person to see "some good" in him.
Treatment offered Larry spiritual salvation ---- he was awakened to a deep love for Jesus ---- a love that had remained elusive to him in all of his religious-laden youth.
He completed the program, stayed on to complete an internship and would go on to attend Lee University in Tennessee for seven years where he would earn bachelor's degrees in psychology and Bible.
He would go on to help create and run other facilities in Florida and Tennessee.
"That is kind of where my background started," said Larry.
"I moved here in 1988, and it was a swamp here," the pastor said of the Potter's Wheel facility. It stretches back into the woods and includes areas for housing, a pallet shop, a church and community area. With only $12 in his pocket and a calling from God, he began the Potter's Wheel with a "beat up 1966 trailer."
"They looked like they were going to fall apart when we got them in here," he said laughing.
"I'm serious. We got this alcoholic off the streets of Goldsboro in here, that was our first client -- one man, one trailer and a few bucks."
Larry said, since 1988, addicts kept coming. Today the all-male facility is typically at capacity which amounts to 80 people enrolled into treatment.
"There is no shortage of the product I deal with -- alcoholics and drug addicts -- and there never will be," he said.
ON THE WHEEL
The Potter's Wheel program offers up hundreds of hours of instruction for the men enrolled.
Orientation, regeneration, inner-healing, chemical dependency/substance abuse, big brother and overcomer's classes are all designed to treat the many facets of addiction, Larry said.
The men at the Potter's Wheel are also gainfully employed at the facility from making pallets to sell to keep the ministry running to caring for the lawn and greenhouses -- each person is a part of the whole community.
Where some Christian-based recovery centers only deal in the Bible, Larry said the Potter's Wheel looks at addiction as a whole.
"We are not like most facilities," he said.
"We teach a lot about chemical dependency, human behavior and relationships, so we are not here just throwing Bibles out. And there is nothing wrong with that. Some places, all they do is teach Bible, and that's fine if they do that. But until a man understands why he does what he does, he will never understand why he shouldn't do it."
The Potter's Wheel, itself, is named for the Bible verse Jeremiah 18: 1-4, where God told Jeremiah to go to the potter's house to hear God's word. There, Jeremiah watches the potter make a vessel "marred in the hand of the potter," but the potter makes another vessel that "seemed good." The verse is a metaphor for how all things can be made anew, no matter how imperfect, and for men at the Potter's Wheel, the treatment facility is a place where they are remolded into vessels -- unmarred and new.
As the facility offers help for the whole man, Larry understands that same addiction can damage the family, and so, Potter's Wheel addresses that caveat to recovery as well.
From marriage counseling to family recovery classes, the curriculum looks at the broad scope of a man's life in addiction and attempts to regenerate all its aspects.
"It wouldn't do any good for him to come here and do these programs and his addiction is affecting the whole family," Larry said.
"They are hurting, and they are sick, too, because of his dysfunctional lifestyle."
ANOTHER VESSEL
Larry said many men who come through the doors of Potter's Wheel are from across the nation and have had storied backgrounds -- some born into tough living and others from affluent families.
He said no one is immune from addiction, and recovery from it is often fraught with hardships, with rehabilitation sometimes being unsuccessful.
And, though the nature of addiction and the nuances to recovery haven't changed over the years, the addicts and the drugs have.
Larry said the stakes are high for addicts with the products on the street now.
"Back in the '60s, all we were doing, we did a lot of cocaine, marijuana, quaaludes, but nowadays, they are just making it out of anything and everything, and they are dropping dead left and right. They are shooting heroin and mixing this fentanyl in it. I am serious, it's every week I know someone that is dying," he said.
"Heroin and fentanyl is crazy. He's not thinking about dying. He's thinking about getting that hit."
He said there are men that return to Potter's Wheel multiple times, relapsing over and over again, and accepting them into the program again is often what it takes to see them through to lasting recovery.
"I don't know which time it is, only God knows which time it is," he said.
"We just have to be sensitive to if he really wants help, sometimes it takes a guy coming through the program and bump his head to get serious. You don't want it to work that way, but it is better than dying."
And dying, for some addicts, is the only end game without treatment currently.
"It is the world we live in," he said.
"They think they have one more in them, and it is that one more that takes them out. We hope they get back here."