Cancer edition 2017: Coping with the loss
By Joey Pitchford
Published in News on October 8, 2017 4:03 PM
Full Size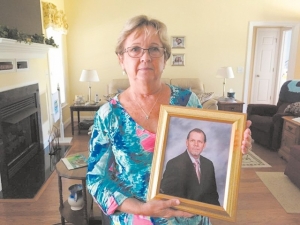 News-Argus/JOEY PITCHFORD
Diane Mitchell holds a photo of her late husband Jerry Mitchell, who passed away from pancreatic cancer in 2014. Mitchell served as her husband's caretaker for years as he fought the disease.
Full Size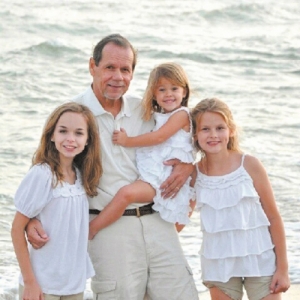 Submitted photo
Jerry Mitchell poses for a photo with his granddaughters Maia, left, Sally Ann, center and Kelli, right. Mitchell's wife Diane said that his granddaughters were part of what kept Mitchell going during his fight against pancreatic cancer.
When a loved one is diagnosed with cancer, the lives of those charged with caring for them take on a laser-focused quality.
Caregivers serve as nurses, cooks, chauffeurs, therapists, confidants and more, their day-to-day existence warping around the disease nearly as much as the patient's themselves.
For Diane Mitchell, whose husband Jerry died from pancreatic cancer in 2014, handling that responsibility ---- and loss ---- taught her things about herself she never thought possible.
Jerry's cancer diagnosis came as a surprise for the Mitchell family. A healthy, active man, Jerry had recently run a Disney marathon with one of his sons when, in the summer of 2011, he began to experience stomach pain.
By November of that year, the diagnosis was set. The Mitchells took stock of their options, and by January of 2012 Jerry was receiving chemotherapy and radiation at Duke Hospital. When Jerry's condition worsened and radiation was no longer an option, the couple moved back home and contacted the Southern Medical Oncology Center for help.
During that time, Diane's life changed. As a pastor's wife, she had always supported Jerry in his ministry and worked to keep the church functioning. Now, that support took on another level.
"I became, almost the nurse," she said. "I made sure that he had all his medications, I watched him to see when he might need his medications increased or decreased, I made sure he got them on time."
Jerry continued to work and preach. His work as a pastor was his passion, Diane said, and he worked consistently throughout 2012. The following year was when things took a turn for the worse.
Diane watched as her husband's condition faded through 2013. He lost weight, struggled to move and eventually lost the ability to drive. Diane served as his chauffeur, driving him around to help him do as much of the work he was accustomed to as possible. She watched as Jerry struggled to keep agency over his life.
"Cancer is just one of the worst things that can happen to a person," she said. "It takes your independence, it took his body, you watch that person slowly become almost nothing. No fat on his body, his thoughts were not the same. It just takes everything."
Diane continued to take drive her husband around town, helping him interact with members of his church and come to their aid when he could. During his sickness, Jerry leaned on his family as points of light in a dark time.
"When his granddaughters came in, they did not know how bad he felt. He would not let them know that," Diane said. "The youngest one ---- she was around 3 when he was diagnosed and around 6 when he died ---- she would come in and jump on him and they would kind of wrestle. Her dad would say 'be careful, he's not feeling well.' Jerry would say 'leave her alone. She's my spot. She's my bright spot today.'"
Jerry preached Easter service at Garris Chapel UMC in 2014. Two weeks later, he died.
In the days after Jerry died, life for Diane was like walking through a fog. With so much business to attend to, things moved quickly, and she never really had a chance to let the full impact of what had happened wash over her. With the help of her family, her friends and her faith, she pushed through the first year without her husband faster than she realized.
The second year was when reality set in.
"Everybody says that the first year, all of the firsts, is the hardest. I didn't get that," she said. "The first year, you're taking care of business, making sure everything is right. Just trying to get a grip on everything."
That first year was still hard, but the constant business kept it bearable. The second year, after the business had been settled and family and friends visited less often, was much more difficult.
"You kind of have to start your life again. I felt like it was harder," she said. "And even though it's been three years, I still have days where it's hard."
The Mitchells had dated since they were 16 years old, and had been married 43 years at the time of Jerry's death. The pair had always made their decisions together, Diane said, a comfort she would have to learn to live without.
Now, three years later, Diane said she is in a much better place personally. The lessons she learned during Jerry's sickness have stuck with her, and she advised anyone going through a similar experience to take things one day at a time.
"There is joy in every day, no matter what you're going through there are little things that happen that are special and fun. Even in the midst of all the bad stuff and how sick he was, he would make a comment or I would make a comment and we'd end up laughing together," she said. "Don't get so bogged down in the diagnosis that you can't live each day and get the best out of that day that you can get."