Local fire officials encourage safety when using fireworks
By Ethan Smith
Published in News on July 2, 2017 1:45 AM
Full Size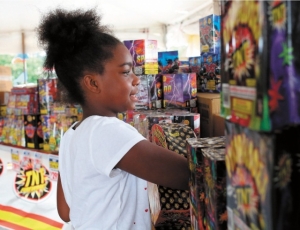 News-Argus/CASEY MOZINGO
Tyra Nobles, 10, reaches for a firework in the tent on Spence Avenue Saturday. Tyra likes the mixed boxes that have a variety of sizes. Her grandmother Melvina Brunton hosts a yearly gathering for out of town family and wants to make sure they have fireworks for both children and adults to enjoy.
Full Size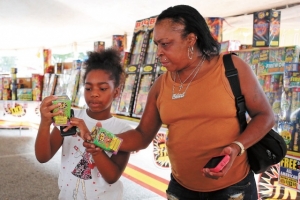 News-Argus/CASEY MOZINGO
Melvina Brunton and her granddaughter Tyra Nobles, 10, look through the fireworks tent on Spence Avenue Saturday as they prepare for family coming into town for Independence Day. Brunton hosts a yearly gathering and wants to make sure they have fireworks for both children and adults to enjoy.
July 4 is right around the corner.
That means cookouts, cold drinks -- and fireworks.
But before anyone goes lighting the fuse on a firework, local fire officials want to make sure they do it safely.
The first thing to know is that projectile fireworks -- the kind that shoot out of the tube they are contained in and explode -- are illegal in North Carolina.
If people are itching to see explosions in the sky, the legal and safe way to do it is to go to the fireworks display at Berkeley Mall July 4 at 9 p.m. It is free to the public.
But Goldsboro Fire Marshal John Morton knows that people don't always heed warnings, and there will still be folks who shoot off illegal fireworks even though fireworks start an average of 18,500 fires per year.
To ensure safety -- with legal or illegal fireworks -- there are tips people should heed so they don't get burnt -- or worse.
Anyone launching a firework should use eye protection; use a long-reach lighter to light the fuses; have a full bucket of water and charged garden hose on standby; never stand directly over a firework; and launch them in open areas away from civilization and never shoot them in the direction of people or buildings.
Morton said if you light a firework and it does not go off -- if it is a dud, per se -- do not immediately approach it.
Instead, wait at least 10 minutes and drop the dud in a bucket of water. This is because fireworks can have delayed explosions.
Morton said children should never be allowed to use fireworks without adult supervision, as sparklers burn at 1,200 degrees Fahrenheit and can burn the user.
Data Morton provided from the 2015 Consumer Product Safety Commission's Fireworks Annual Report said 11,900 people were injured by fireworks that year. Of those injuries, 51 percent were to the extremities and 41 percent were to the head. Children younger than 15 years old accounted for 26 percent of all fireworks-related injuries in 2015.
Morton said anything that goes up must come down, so people should never stand in the fall zone of a firework.
If you do happen to have illegal fireworks in your possession, realize that they are explosives and need to be stored in an area away from ignition sources.
Other Local News