Career lawman retiring after more than 30 years of service
By Ethan Smith
Published in News on July 2, 2017 1:45 AM
Full Size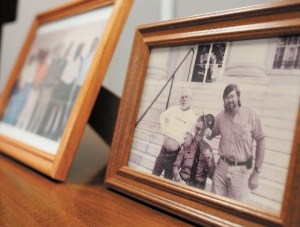 News-Argus/CASEY MOZINGO
Pictured is a photograph in Tom Effler's office from the mid-'90s when Effler, at right, was working with the drug squad. Also pictured are Ray Smith, far left, and Bob Morrison, Effler's patrol partner who was shot and paralyzed while responding to a domestic disturbance.
Full Size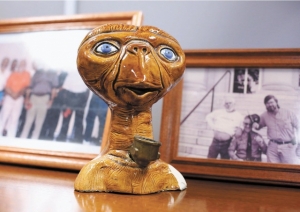 News-Argus/CASEY MOZINGO
One of Tom Effler's most memorable seizures was this E.T. ceramic pipe.
Full Size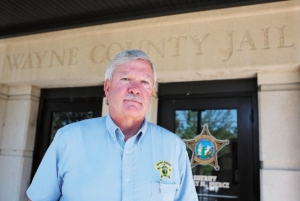 News-Argus/CASEY MOZINGO
Tom Effler stands in front of the Wayne County Sheriff's Office Thursday as he prepares for retirement after more than 30 years in law enforcement.
It was May 27, 1992.
Tom Effler remembers the day vividly.
It was a domestic call in the Seven Springs area.
His partner, fellow Wayne County Sheriff's Deputy Bob Morrison, took the original call.
Effler went to back him up.
They got to the scene and began talking to people about what had happened.
Then a man came out with a gun strapped to his side, making comments about their blue lights.
And all hell broke loose.
"He pulled, we pulled -- my partner got shot right underneath his shoulder blades across his back and it went through his spinal cord," Effler said.
Effler got on the radio and began yelling for help.
"I had officers from all over the place coming in," Effler said. "From Lenoir County, Duplin County, Wayne County -- all those departments. When you're yelling for help, they come. That's when you really know there is a true blue line, or family, in law enforcement."
First responders took his partner to the hospital. During Morrison's transport -- Effler didn't know it at the time -- medical personnel said he had no pulse and no blood pressure.
But they brought him back.
Effler keeps in his office a photo of himself, Morrison and another officer, Ray Smith, on the steps of the Wayne County Courthouse, with Morrison sitting in his wheelchair.
In his 34 years of service in law enforcement, Effler has been caught in five shooting incidents.
That one -- his partner left paralyzed because of it -- sticks with him to this day.
"It's something I think about probably every day," Effler said. "It's something you just don't get over."
He'll take his memories with him.
Come August 1, at 59 years old, Effler's days as a full-time law enforcement officer will come to a close -- he will retire.
*
Since he was a small boy, Effler wanted to be in law enforcement.
He said he saw the cowboys on television and in movies, and he wanted to carry a gun on his hip like they did.
And so he has.
Throughout his career, he has done a little bit of everything.
Effler worked his way up to Major of Enforcement Operations -- his current position -- from starting as a part-time special deputy on July 15, 1983, at age 26.
But before he got on with the Wayne County Sheriff's Office, he was a licensed barber.
Effler said he owned a barber shop on Royall Avenue -- Wayne Barber and Style Shop -- that is now a fish market.
"Every time I go in there and talk to the people I say, 'This stuff still have hair in it?'" Effler said. "And they look at me funny and I tell them, 'I used to own a barbershop in this place.'"
He became a special deputy and began serving papers -- subpoenas and criminal papers -- after he would get off work at the barber shop.
Effler was first shot at while serving a subpoena on a man's neighbor on John Street.
He said he was walking away from the man's house when the man's neighbor came out and began talking to him.
The man asked if Effler was the law and if he was carrying a gun, to which Effler replied he was on both counts.
Effler got back into his truck, and then came the gunfire.
"He came out there and he threw up (his gun) and of course I was ducking, and I was pulling my weapon at the same time, but there was a girl on the porch behind him -- I remember that just as plain as day -- so I wouldn't return fire at that time because I was afraid I might hit her," Effler said.
The man, somehow, hit nothing with the rounds he fired from his shotgun.
In August 1989, Effler went full-time with the Wayne County Sheriff's Office.
He has spent his entire career -- he will clock off with 34 years and 16 days when he retires on August 1 -- with the Wayne County Sheriff's Office.
Effler has worked under three different sheriffs, working his way up in rank as he went.
"My whole career's been right here, so I've been very fortunate that way," Effler said.
During his time with the agency, he's worked as a special deputy, patrol officer, drug unit officer, and held various other positions.
Effler said he has done everything with the sheriff's office except for working in the detention center.
He said he always wanted to work drug cases, and it most likely stemmed from movies and television shows he saw, as well as working with a drug officer while he was a special deputy. He accomplished that, working drug cases for 14 years, and more.
"I always wanted to work drugs," Effler said. "Of course, I wanted to help people, too, but I always wanted to work drugs."
Besides the shootings, what has bothered Effler the most during his time in law enforcement is the lack of respect he said people are showing for each other now, as well as seeing the amount of hurt people go through.
"They don't respect themselves, the ones we deal with all the time, they don't respect themselves enough, so they're definitely not going to respect other people," Effler said.
Effler said there are certain scenes he's been called to, and certain cases he's worked, where the people involved are going through incredible amounts of pain.
He said it's stuck with him, but he handles it by being lucky enough to have a good family to lean on, including other officers, as well as a wry sense of humor.
*
There are several mementos Effler has kept from his days as in law enforcement -- including a peculiar item from a drug seizure.
"We seized it from someone and I always though it was so cute," Effler said. "It's 'E.T.,' but it's a bong."
Effler said it was part of a drug paraphernalia seizure in which many items of contraband were seized, and he kept it because it was right around the time the film came out.
"It was right about the time 'E.T.' was popular, and it just hit me off," Effler said. "I liked 'E.T.,' I thought it was a good movie."
After a storied career, Effler has decided to retire to take care of his family and enjoy living on his own time while he still can.
He said watching other, younger officers die around him made him want to retire so he could take care of his family and be with them while he is still young enough to enjoy it and do as he pleases.
He said he is proud of everything he's accomplished in his career -- how he started from the bottom and worked his way up to major without getting in any serious trouble along the way -- as well as cases he's worked and the people who he's worked with.
Effler said his only current plans for retirement are to do whatever he pleases after so many years of service.
But he won't be gone long.
Effler said he plans to come back part-time with the sheriff's office in some capacity in the fall.
"I can't get out of it completely."
Other Local News