HEALTHY LIVING 2017: Staying active after retirement could lead to happier, healthier senior lifestyle
By Becky Barclay
Published in News on July 1, 2017 4:35 PM
Full Size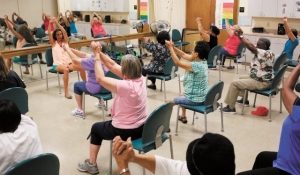 News-Argus/CASEY MOZINGO
Seniors participate in an arthritis exercise class at the Peggy Seegars Senior Center. Keeping physically active will help you have a healthier life after retirement
Full Size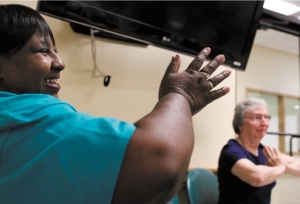 News-Argus/CASEY MOZINGO
Cora "Cookie" Swinson and JoAnne Chakona follow along with the class as they perform a prayer pose during the arthritis exercise class at the Peggy Seegars Senior Center.
Life doesn't end after retirement. And to have a happy and healthy after you are no longer working, you need to keep active -- physically, mentally and spiritually.
There are several ways to do this.
It begins with having a purpose to just get out of bed each morning now that you no longer have to be at work each day.
"Everyone needs a purpose, a reason to get up," said Paula Edwards, director of Wayne County Services on Aging and the Peggy Seegars Senior Center.
"When you retire, whether it's a volunteer job, family time or some hobby that you like to do, we all need a purpose. We're created to be social beings. Staying at home after retirement may sound good. You can get up when you want to and chill at home. But after a while, that gets a little old. We all need a little down period at retirement, but then when you start looking at four walls, what do you do with yourself."
Places like the senior center and Herman Park Center offer a variety of activities to help you stay fit after retirement.
There are fitness classes, dance classes, pool and an exercise room to help you stay physically fit and keep moving.
You can play cards and other games to keep your mind active. Or take a jewelry or crocheting class.
Or spend some time in a computer lab.
And the senior center offers Bible classes to help you stay spiritually fit.
"We need to feed all of those needs to make us feel well and adjusted," Ms. Edwards said.
Socialization is a big concern after retirement.
"If you are able to get about and get out, there are great opportunities in Wayne County for you to have social interaction with individuals," Ms. Edwards said. "Social support is imperative for your well being. It does impact on your health, mentally, everything."
She said that statistics show that seniors who are isolated at home have 50 percent more mortality rate.
"Isolation's just not good for anyone," Ms. Edwards said.
She said socialization also help improve one's mental health.
"When we connect with people and we laugh with them or get support when we're going through something, it helps," Ms. Edwards said.
"We need that."
She said studies have also found that activity and socializing helps cognitively and that there's not as much dementia in people who socialized as there was in those who isolated themselves and were not socially active.
"Staying home is fine for a short period of time, but if you're not careful, you end up disconnecting from everybody," Ms. Edwards said.
"You can decrease anxiety and stress just by getting out of the house. When you're by yourself, you think more and worry more. When you're out and about with people and talking, you don't have time to think about all those things and worry."
In addition to socializing, there are also healthy living classes on various subjects at the senior center to help retirees keep physically and mentally fit.
The senior center also offers nutritional meals, which are not based on economic need.
"We try to draw our participants here to eat a meal with other participants," Ms. Edwards said. "When you talk and enjoy a meal, you eat better. At home, sometimes they don't eat or they don't eat the right things."
In addition to classes, exercise, meals and other activities, retirees looking for a way to keep active can also volunteer their time with several agencies in Wayne County.
Ms. Edwards said retirement is a time to discover who you are outside of work.
"We kind of identify ourselves with what we do at work," she said.
"So when that ends, you're like, 'What do I do now? Who am I?' But maybe with your job, you never had the chance to explore what you had an interest in because you stayed so busy.
"After retirement, it's a great time to explore what you might like to do. You might like to travel, crochet, develop computer skills or making yourself physically better by exercising. It can be a challenging time in your life when you're used to getting up and going to the job on that scheduled routine and all of a sudden are not."
Ms. Edwards said that retirement doesn't mean your quality of life is over and that you can no longer enjoy life.
Here are some more ways to keep your mind and body active after retirement:
• At home, you can read a good book or do various kinds of puzzles to keep your mind active.
• Take up a musical instrument.
• Learn a new skill such as ballroom dancing or tap dancing. According to Brain Fitness Strategies, the process of learning itself leads to new brain cells developing.
• Offer to care for your grandchildren a few afternoons a week.
• Start a book club with other retired friends.
• Try something new like performing in a community theater production, visit new places or even skydive.
• Start a vegetable or flower garden in your yard.
• Get a part-time job.
Other Local News