Stopping the trade: Signs to look for to spot human trafficking
By Ethan Smith
Published in News on June 27, 2017 9:02 PM
Full Size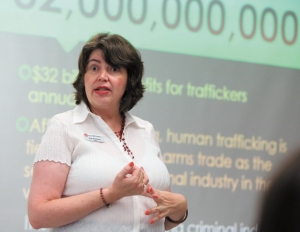 News-Argus/CASEY MOZINGO
Pam Strickland, founder of Stop Human Trafficking Now, speaks at WAGES Tuesday. Strickland said that human trafficking is the fastest growing criminal industry in the world.
Pam Strickland, founder of Eastern North Carolina Stop Human Trafficking Now, said during a training session at WAGES Tuesday, that human trafficking is the fastest growing criminal industry in the world.
But that doesn't mean it isn't a local issue.
Eastern North Carolina is a hotbed for the illegal industry -- which nets $32 billion in profits annually -- due to the prevalence of farms, military bases and gangs.
Strickland said human trafficking is not limited to just sex work, but also includes forced labor -- making it modern day slavery.
When immigrants come to America and begin working on farms, their work visas are tied to farmers they work for, giving the farmer control over them, she said.
And people trafficking other people -- forcing them into labor and sex work -- aren't always who you think.
Strickland said during her training that family members, pimps, gangs and the Internet are the largest propagators of human trafficking.
To support her statements, Strickland showed powerpoint slides of news reports from Fayetteville, Greenville and other N.C. cities where people had trafficked children, military personnel and migrant workers.
Strickland said she could not speak to the extent of human trafficking in Goldsboro and Wayne County, as there are not many reports of it in the area despite the area having a military base, farms and gangs.
"That would indicate to me they're not looking for it," Strickland said. "The areas that don't have cases are the areas where law enforcement is not looking for it."
But Wayne County Sheriff Larry Pierce said members of the sheriff's office have gone through human trafficking training.
Pierce said a number of his deputies have gone to seminars where training on how to identify human trafficking and its victims is embedded into the seminar.
Pierce said the sheriffs office has worked with the Department of Homeland Security to make sure human trafficking is at a minimum in the county.
Matt Miller, a task force officer with the Federal Bureau of Investigation and a deputy with the Sheriff's Office, keeps the office abreast of any information provided to him by the FBI about human trafficking in the area, Pierce said.
Pierce added that he does not believe there is a large-scale problem with human trafficking being very prevalent in Wayne County, but said even one case too many.
Goldsboro Police Chief Mike West said the entire police department received training on how to spot human trafficking in February 2016, as part of in-service training officers went through.
West said officers are now reporting to him that they see signs of human trafficking in Goldsboro, often as part of other crimes.
When an officers goes to take a report about an assault or another crime, West said, they are often also seeing signs of human trafficking.
This also extends to local businesses, with officers recently relaying concerns about signs of human trafficking at a local hotel, West said.
West said it is becoming more prevalent, as only officers used to notice signs of human trafficking, but now members of the public are noticing obvious signs of it also.
Strickland said there are many red flags to watch out for to help identify victims of human trafficking.
She said to identify areas where human trafficking might be happening, look for unusual security measures, such as security cameras in odd places or barbed wire pointing inward; young women going in but rarely leaving, or only leaving with other people; lots of people coming and going; employees living where they work; or multiple employees arriving and leaving a workplace in the same vehicle.
Strickland said to identify victims who are students, look for unexplained absences, behavioral changes, signs of injuries they are hesitant to explain or older boyfriends and girlfriends.
Victims of human trafficking will also continually run away from their residence, Strickland said, live with their boyfriend or "boss," have tattoos or branding on their body, act anxious, fearful, depressed or submissive, be affiliated with gangs or have substance abuse issues.
While all of these things can help identify victims, Strickland said it comes down to a person's gut feeling that something might be off.
Strickland said prominent locales for where human trafficking happens include bus stops, schools, malls, parties, massage parlors, spas, sporting events, in neighborhoods or on social media and the Internet.
Legislation passed the North Carolina Senate Monday that would make it a higher level felony for violating human trafficking laws. There is funding in the budget bill for more than 21,000 human trafficking awareness signs to be displayed at adult establishments, hospitals, rest stops and other places.
On top of that, North Carolina lawmakers in the House are pushing to pass legislation that would require massage and bodywork therapy establishments to be licensed. Currently, only massage therapists have to be licensed, but the establishments do not.
The legislation in the House would also seek to make it a misdemeanor to employ unlicensed massage therapists. It would also prohibit sex acts at such establishments. It passed the House last week 107-5.
If someone thinks they have come across human trafficking, Strickland said they should never try and save the victim or reprimand the perpetrator.
Instead, she said, they should call the National Human Trafficking Resource Center at 1-888-373-7888 and report it. People can also text "HELP" or "INFO" to 233733.
---- The Associated Press contributed to this report.