Cemetery concerns aired
By Steve Herring
Published in News on June 27, 2017 7:04 AM
Full Size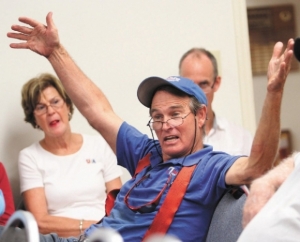 News-Argus/STEVE HERRING
James Goldman, an Air Force veteran, asks a question during Monday night's meeting.
It would be "absolute political suicide" for state lawmakers not to fund the Eastern North Carolina Veterans Cemetery, Wayne County GOP Chairman Wade Latham said.
But at the same time he urged patience during the party's Monday night meeting that was attended by nearly a dozen veterans.
Latham said he is disappointed that the new state budget does not fund the cemetery, but that he is giving legislators the benefit of the doubt that the issue is something that just slipped through the cracks.
"I have been told in the next week or so this is going to be resolved," he said. "I know it is tough, and everybody is upset about it. I don't blame you. I am upset, too. Let's just kind of bite our tongue for the next week.
"Continue to make your phone calls to the people you think you need to talk to. I would make phone calls and let them know how displeased that we are because there is just no excuse."
That is particularly true in light of all of the "hassles" veterans have had to suffer through in recent years in dealing with the Veterans Administration, Latham said.
"This is just another black eye," he said.
However, some of the veterans were not having it and said that whomever eliminated the funding and jobs at the cemetery should be held accountable.
Air Force veteran James Goldman asked how the funding could have been left out of the budget when the No. 3. Republican in the state House (Rep. John Bell) lives in Goldsboro.
Jim Ward said that veterans and the public would not even have been aware of the issue had it not been for articles published in the News-Argus.
"Of all of the stuff that we have seen and read, and (News-Argus reporter) Steve (Herring) I think has done an excellent job keeping us informed," Army veteran Dave Parsons said. "But it seems to me every time I read one of the articles it's (someone) passing the buck. Who was responsible to make sure this did not happen?"
What is to say this is not going to happen another two years down the road, he said.
"Somebody needs to be held accountable," Parsons said. "Somebody dropped the ball. We need to find out who."
Goldman said somebody had to strike out the funding and positions at the cemetery because they were included in the current budget.
"Don't let anybody kid you," he said. "It wasn't that anybody forgot to put it in -- somebody took it out."
Other veterans agreed, adding that nobody wanted to take the blame.
"I don't know how we can hold anybody accountable other than making phone calls and demanding things get fixed," Latham said.
Larry D. Hall, secretary of the North Carolina Department of Military and Veterans Affairs, Friday told the News-Argus that the state budget does not include the $200,000 needed to cover the next two years of operations for the maintenance at the cemetery.
The budget also eliminates the jobs at the cemetery, he said.
Both were asked for in Gov. Roy Cooper's budget and were requested by his department on numerous occasions, Hall said.
The lack of funding and elimination of the jobs means the cemetery would have to be closed at the end of the month, Hall said. Also, there would be no more burials there and people could not visit the graves of loved ones already buried there.
Also, the state will have to repay the $5 million federal grant used to construct the cemetery, Hall said.
Lawmakers cannot say they were unaware of the funding need, the $5 million liability and forcing closure of the cemetery, he said.
More than 200 people, including then Gov. Pat McCrory, attended the dedication ceremony for the cemetery on Nov. 9, 2015.
The cemetery is less than two years old. The first burial was Feb. 26, 2016, and so far a total of 264 services have been held there.
Three are planned for this week.
"When I read it I was not happy myself," said Latham, an Air Force veteran of 24 years. "This popped up two days ago so there are a lot of things going on behind the scenes that a lot of us don't know about, some of us know a little bit about.
"I just want to let you know our county commissioners, our city people are very aware of this."
Latham said he knew people at Seymour Johnson who were not happy with it either.
"All I can say is that things are being worked feverishly to find funding for this," he said.
If Cooper vetoes the budget, it could provide more time for legislators to take care of this "absolute heinous thing" that has happened, he said.
Former Wayne County commissioner Andy Anderson, who was a moving force in getting the cemetery built, was asked if he had any comments.
"I talked to Sen. (Louis) Pate today," Anderson said. "He kind of, like me, said they're blowing smoke trying to find issues to stir the public. He said, 'I don't think there is any threat there. We still owe a $5 million debt and we have got to pay it.' He said, 'It's going to happen.'"
Pate does not think there will be a problem getting the money, Anderson said.
Former party chairman Brent Heath said that Bell and Rep. Jimmy Dixon have told him the money is there.
"Then let's see it and then everybody can relax," Latham said.